Rand Paul Walks Back Line About Those Who Want to Blame Him for a Terrorist Attack
The Kentucky Senator said that "the heat of the battle" can get the best on anyone.
By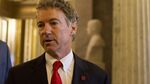 It might not have been the best wording, but Kentucky Senator Rand Paul still stands by his general argument. 
While debating the expiration of part of the Patriot Act Sunday night, Paul said he believed that some people in Washington D.C. "secretly want there to be an attack on the United States so they can blame it on me." During an interview on America's Newsroom on Fox News, Paul was asked about whether he stood by the comment, and to whom he was referring. Paul replied that his comment may have been a result of the heat of the moment. 
"I think sometimes in the heat of battle hyperbole can get the better of anyone, and that may be the problem there," Paul said. "The point I was trying to make is that I think sometimes people do use fear to try to get us to give up our liberty."
In the last week, Paul, one of several candidates for the Republican presidential nomination, has been criticized by his official and potential opponents for his opposition to parts of the Patriot Act related to bulk data, which expired last night, and for his comment that the policies of GOP hawks "created" the Islamic State. During an interview on Fox News, Gretchen Carlson asked Paul if he'd feel "guilty" if provisions of the Patriot Act expired and there was a terrorist attack. Paul referenced the criticism, as well as the Carlson interview, during Sunday's debate when he said:
People here in town think I'm making a huge mistake. Some of them, I think, secretly want there to be an attack on the United States so they can blame it on me. One of the people in the media the other day came up to me and said, "oh, when there's a great attack aren't you going to feel guilty that you caused this great attack?" It's like the people who attack us aren't responsible for attacks on us.
On Monday, Paul said the comment was hyperbolic, but also repeated that NSA bulk data collection hasn't prevented any episodes of terrorism. In December 2013 a White House-appointed review panel found that information from the NSA's bulk collection of phone data "was not essential to preventing attacks." A January 2014 report from the New America Foundation reached a similar conclusion. 
Later America's Newsroom host Bill Hemmer pressed him on whether he took back his comment.
"I think sometimes going after people's motives and impugning people's motives is a mistake," he said, later adding, "I think by calling it hyperbole that means that I may well have exaggerated the case."