Frugality of High Earners in U.S. Shows Long Shadow of Recession
Anna-Louise Jackson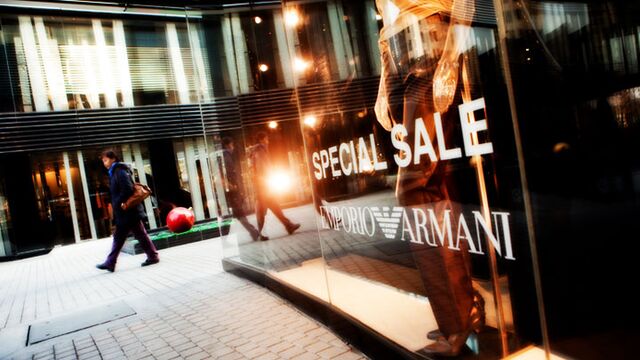 The nearly rich aren't spending nearly enough, a trend that's weighing on U.S. growth.
Six years after the worst recession since the 1930s, Americans who earn $100,000 to $249,999 a year still are "making very careful decisions" when it comes to discretionary purchases, said Pam Danziger, president of Unity Marketing Inc., a luxury research company based in Stevens, Pennsylvania. "That's smart for them, but it's certainly not good for the economy."
These consumers -- Danziger calls them HENRYs, or high earners not rich yet -- are "feeling squeezed" primarily because their spending power is curbed by sluggish income gains, she said. They spent 10 percent less on luxury goods and services in the fourth quarter compared with the same period in 2013, according to figures from Unity Marketing.
Not surprisingly, retailers that cater to these buyers have suffered. Ralph Lauren Corp. and Coach Inc. each has missed analysts' estimates for sales growth in three of the past five quarters.
Americans who earn $250,000 or more a year also are cutting back. Their luxury spending fell 17 percent in the fourth quarter from a year earlier -- though these consumers make up 2 percent of households, compared with 18 percent for HENRYs, Danziger said.
Retail Sales
"The caution of high-income consumers is key to the lackluster retailing environment" because the top 20 percent of households make up more than half of total spending, said Mark Zandi, chief economist of Moody's Analytics Inc. in New York. Retail sales are flat year-to-date, following average monthly gains of 0.6 percent in the first four months of 2014, while consumer purchases unexpectedly stalled in April, Commerce Department figures show.
Consumers are more conservative spenders and borrowers post-recession and "they haven't really let loose yet," even amid robust gains in hiring and in stock and home prices, he said. "This partly reflects the long shadow of the recession."
Many workers feel uncertain about their job security, which acts as a "halter on spending," said John Manley, chief equity strategist for Wells Fargo Funds Management in New York. This has broader implications for the economy, keeping the Federal Reserve from raising interest rates, he said.
As confidence improves, so too should spending, though both can be "easily shaken" by signs of economic weakness, Manley said. "The rich often think they're poor."
Sinking Sentiment
Sentiment among Americans earning more than $100,000 has fallen 15.1 points from a nearly eight-year high in mid-April, which is more than double the 7-point drop for all income groups, according to the Bloomberg Consumer Comfort Index.
Many HENRYs have a middle-class mindset, particularly if they live in urban areas, said Ron Kurtz, president of the American Affluence Research Center, an Atlanta-based company that focuses on the wealthiest 10 percent of U.S. consumers. With most of their paychecks funding everyday expenses -- principally housing -- this leaves less money for discretionary purchases, he said.
This group hasn't enjoyed net-worth gains like their wealthier peers because many don't have as much money invested in stocks, Kurtz said. As a result, "it's unrealistic for luxury retailers to depend on these consumers as steady buyers on a year-to-year basis," especially as post-recession volatility has encouraged more saving, he said.
Savings Rate
Americans who earn about $100,000-$250,000 a year saved 8.5 percent of their disposable personal income in the fourth quarter, according to Zandi's calculations based on Fed financial accounts figures. That's higher than the 7 percent average for all consumers, though it's consistent with broader trends, he said.
Even so, there are signs spending may pick up. Average daily expenditures among Americans with household incomes of $90,000 or more rose 3.9 percent in April to $160 from a year earlier, before falling in May to $153, according to Gallup Inc. in Washington.
This measure of self-reported spending has been "gradually edging its way up" after falling to less than $100 a day in 2010, said Frank Newport, Gallup's editor-in-chief. "The overall trend is positive."
Zandi expects spending will accelerate once there are "more substantive" gains in wages. Year-over-year increases in average hourly earnings have remained at about 2 percent since June 2009, Labor Department figures show.
Conspicuous Consumption
As people feel comfortable flaunting big-ticket purchases again, this could spur spending among their neighbors, Zandi said. There's been a "general cultural shift" away from displays of conspicuous consumption, but some Americans will revert to old habits of "trying to keep up with the Joneses."
Still, the longer a trend persists, the more likely such behavior becomes habituated, Danziger said. Consumer spending makes up about 70 percent of U.S. gross domestic product, so continued prudence among HENRYs is problematic, she said.
"We're at a real tipping point," Danziger said. "The affluent who have spending power are really not spending."