business
Fischer, Rejecting 'Liftoff,' Says Rate Rises Will Be 'Crawling'
Alister Bull and Cecile Gutscher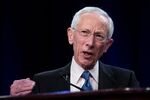 When it comes to describing how the Federal Reserve will exit the zero-rate era, "liftoff" is all wrong, says Vice Chairman Stanley Fischer.
The term, dear to investors and headline writers, "is the most misleading word you can imagine," he said on Monday in Toronto.
"Liftoff says we're going straight up with the interest rate," Fischer said during a question-and-answer session after a speech on financial crises. "Well, we're going up with the interest rate, then along, and then another little jump. That's not liftoff, that's crawling."
His remarks underline a theme hammered home by Fed officials in recent weeks: They won't follow a predictable path in raising rates, and instead will be guided by the latest economic data. They have kept the benchmark federal funds rate near zero since December 2008.
Last week, Fischer, a former Bank of Israel governor, told an audience in Tel Aviv that the Fed could moderate its tightening pace if global growth faltered.
Officials want to see continued improvement in the labor market and have reasonable confidence that inflation is heading back toward their 2 percent goal, before raising rates for the first time since 2006. Fed Chair Janet Yellen said in a May 22 speech that rates would probably rise gradually thereafter.
Before it's here, it's on the Bloomberg Terminal.
LEARN MORE