Could a Parallel Currency Help Save Greece From Drowning?
Desperate times call for desperate measures. But this one may be a little too desperate
By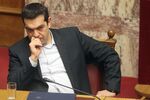 As Greece's financial plight worsens, an odd idea keeps popping up: a parallel currency alongside the euro that would circulate inside Greece and be used to pay for anything from taxes to food and clothing. Even German Finance Minister Wolfgang Schaeuble has said that Greece may need a parallel currency if talks with creditors fail, people familiar with his views told Bloomberg.