business
Blatter's UEFA Nemesis Plots Plan B After Failed Ouster Attempt
Alex Duff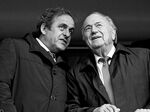 Michel Platini tried to get rid of Sepp Blatter and failed. Now he has to try to live with him.
Platini, president of European soccer authority UEFA, last week called on Blatter to resign after a U.S. Justice Department graft investigation led to the indictment of nine current and former officials of FIFA, the global soccer body Blatter has headed since 1998.
With Blatter in place for another four years after winning Friday's election, Platini plans to decide UEFA's next move with officials in Berlin before Saturday's Champions League final between Juventus and Barcelona. Blatter, for his part, says he forgives and doesn't forget.
"If both sides come out fighting it's going to get really nasty," said Chris Brady, a sports business professor at the U.K.'s Salford University. At stake is control of the world's most popular sport and issues including everything from finance to the rules of the game.
Blatter could retaliate against Platini by diluting European soccer's power on his executive committee, Brady said. Platini could seek to attack FIFA's biggest asset, the World Cup, by staging a European boycott that would remove many of its star players, said Michael van Praag, president of the Dutch soccer federation and a one-time candidate against Blatter. Van Praag declined to give details when he spoke to reporters in Zurich last week.
Should Platini decide to go up against Blatter, he'll be displaying the same rebellious instincts as when he played midfield for Juventus from 1982 to 1987. He was European footballer of the year three times at the Turin-based club, as well as top scorer in the Italian league. He captained France's national team to the 1984 European Championship title.
Agnelli Riposte
Gianni Agnelli, the late former Fiat SpA chairman whose family controls Juventus, once came across Platini in a haze of cigarette smoke in the locker room, according to "Calcio: A History of Italian Football," by John Foot.
"That worries me," Agnelli said of the unhealthy habit.
"You only need to worry if he starts smoking," Platini shot back, pointing to "Beppe" Furino, an Italian midfielder who had less skill but did more running on the field.
Platini, 59, coached France's national team for four years after quitting soccer at age 32. He then went into soccer administration, helping France organize the 1998 World Cup; its team won the tournament at home.
Stomach Troubles
Platini became a UEFA executive in 2002 and was elected president of the Nyon, Switzerland-based organization in 2007. While Platini has stopped smoking, he still keeps his tie askew, his curly hair unkempt and his sense of humor intact when joshing with reporters in three languages.
But the struggle to unseat Blatter is giving him "stomach troubles," he told a news conference in Zurich on the eve of last week's vote. Following Blatter's win, Platini was unrepentant, saying change is crucial for FIFA to regain its credibility.
Platini hadn't yet arrived in Zurich for FIFA's 65th Congress when the arrests began at the Hotel Baur au Lac. After catching a flight from the Europa League final in Warsaw to Zurich last Thursday, he went straight to a meeting with Blatter and asked his former ally to quit in front of the five other regional soccer chiefs.
"Many people have had enough," Platini, who supported Blatter when the 79-year-old Swiss was first elected in 1998, told reporters shortly afterward. "Sepp was affected by what I said because I speak like a friend with him. He was very sensitive."
Forgive, Forget
The next day, Blatter secured a fifth term by beating Prince Ali bin al-Hussein of Jordan 133-73 in a ballot of FIFA member associations. He said public calls by Platini and others for him to resign were regrettable.
"Those are not things we do," Blatter told Swiss broadcaster RTS on the night of his victory. "I forgive everyone but I do not forget."
In his victory speech, Blatter said he plans to give more representation to the Oceania region, which includes New Zealand, Tahiti and the Cook Islands. It has a single place on the 24-person FIFA executive committee. Europe's allocation dropped to seven, not including Blatter, after England's David Gill resigned last week in protest over the leadership.
Blatter spreads about $1 billion of FIFA's World Cup wealth among member associations, many in Africa and Asia. They include South Sudan, the world's youngest nation, which got a $500,000 grant to build a new headquarters two months after becoming a FIFA member in 2012.
With Swiss authorities investigating FIFA over the awarding of the 2018 and 2022 World Cups to Russia and Qatar, Blatter must weigh whether to hit back against Platini or seek to build bridges, Salford University's Brady said.
"The stakes are very high," he said. "Platini has positioned himself very well and it may be Blatter decides a low-key approach is the best way forward."
(For more FIFA coverage, click EXT5.)
Before it's here, it's on the Bloomberg Terminal.
LEARN MORE