Aussie Banks Seen Needing More RBA Rate Cuts to Bolster Margins
Narayanan Somasundaram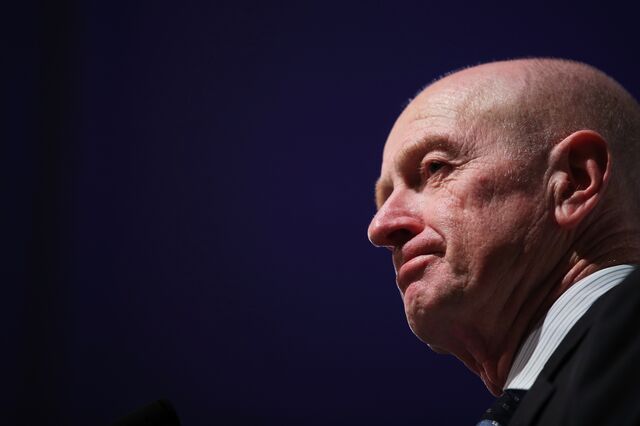 Australia's biggest banks are looking to Glenn Stevens for a hand in arresting a four-year decline in lending margins.
As Stevens oversaw 2.75 percentage points of Reserve Bank of Australia interest-rate cuts since late 2011, the finance industry bond yield premium over the swap rate fell to 90 basis points from more than 200, according to Bank of America Merrill Lynch. Special interest rates used to attract term deposits from customers averaged 2.65 percent in April, the least relative to the benchmark borrowing cost since 2009, RBA data show.
The lower financing costs haven't prevented the big four's net interest margin, the spread between the amounts paid for funds and earned on loans, from collapsing to a six-year low amid intensifying mortgage competition. That's why three of them kept back part of last month's rate cut. RBA left its benchmark rate at a record-low of 2 percent Tuesday. Swaps indicate 21 basis points more of easing within 12 months.
"I would expect the banks to have flat to marginally lower margins over the next year," said Omkar Joshi, a Sydney-based investment analyst at Watermark Funds Management, which oversees $766 million. "Flat is a possibility if the RBA cuts rates again and the lenders use the opportunity to reprice up."
Holding Back
Commonwealth Bank of Australia and National Australia Bank Ltd. handed their customers a 20 basis point reduction in May, while Westpac Banking Corp. reduced its rate by 22 basis points. Australia & New Zealand Banking Group Ltd. was alone in passing on the full 25 basis points cut. It was the first time since 2012 that at least some of the lenders held on to part of a central bank easing.
Locally, NAB and ANZ both sold five-year unsecured Aussie dollar debt last week at a yield of 80 basis points over swap rates. Westpac priced a similar-tenor transaction in January at 90 basis points.
"Bank credit spreads have so far remained resilient to the recent bout of volatility," Tano Pelosi, a portfolio manager at Sydney-based Antares Capital, said by phone. "Ample liquidity in their bonds and strengthening credit profiles should continue to be supportive."
Loan margins at the three largest lenders -- ANZ, Commonwealth Bank and Westpac -- slumped to an average of 2.07 percent in the first half of fiscal year 2015 from 2.30 percent in 2009, filings show, the lowest since 2008. For NAB, it fell to 1.92 percent, the lowest in at least 10 years.
Discount Loans
Margins have been smashed as banks woo customers with discounts of 100 basis points on their benchmark variable home loan rate, which is itself at a five-decade low. Mortgages make up 65 percent of Australian lenders' total assets, according to banking watchdog Australian Prudential Regulation Authority.
That could change as mortgage issuers do away with interest-rate discounts on home loans to landlords, who account for a record 35 percent of property-linked assets at entities regulated by APRA, data released May 26 show.
"The worst is probably behind for bank margins," said T.S. Lim, a Sydney-based analyst at Bell Potter Securities Ltd. "Reduced interest discounts and lower funding costs should all cheer up margins."
Before it's here, it's on the Bloomberg Terminal.
LEARN MORE