Altera CEO John Daane Eligible for $41 Million Golden Parachute
Caleb Melby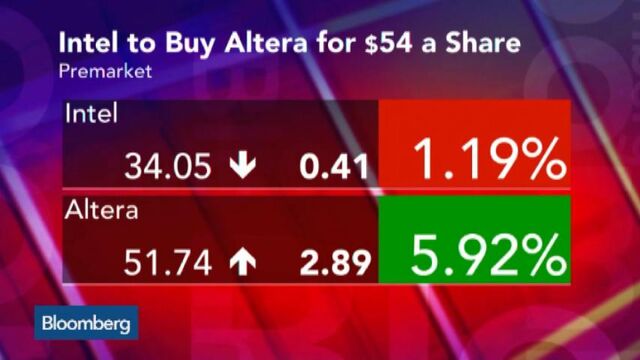 Altera Corp. Chairman and Chief Executive Officer John Daane could get at least $40.7 million if he's terminated after Intel Corp. acquires the semiconductor maker.
The payout would include $1.2 million in cash severance, a $1.8 million bonus and $33,536 in benefits, according to Altera's latest proxy statement. He'd also get equity valued at $37.7 million at the offer price of $54, according to data compiled by Bloomberg.
The $16.7 billion deal would help Intel, the world's largest chipmaker, expand its most profitable business: supplying server chips used in data centers. The industry is undergoing a record year of consolidation after Avago Technologies Ltd. agreed last week to buy Broadcom Corp. for $37 billion. Broadcom CEO Scott McGregor could get at least $67 million if he's terminated after that deal.
Scott Wylie, vice president of Altera investor relations, and Karin Taylor, a spokeswoman for the San Jose, California-based company, didn't immediately respond to calls and e-mails seeking comment.
Daane, 51, has been CEO of Altera since 2000. He would receive the compensation if he's terminated without cause or resigns for reasons including a change in position that reduces his responsibilities or a cut in his base salary following Intel's acquisition.
Altera "will become an Intel business unit," according to a statement today from the companies.