politics
Bernie Sanders Compares Rape Fantasy Essay to Fifty Shades of Grey
Titled "Man and Woman," the essay was not what Sanders hoped to be talking about during his campaign.
By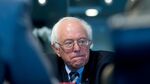 Move over, E.L. James. 
Democratic presidential candidate Bernie Sanders on Sunday said that his 1972 essay dealing with rape fantasies was "poorly written," but was meant to discuss dominance and gender stereotypes, not unlike James' bestselling erotic novel Fifty Shades of Grey. 
"This is a piece of fiction that I wrote in 1972, I think," the Vermont Senator said, appearing on Meet the Press. "That was 43 years ago. It was very poorly written and if you read it, what it was dealing with was gender stereotypes, why some men like to oppress women, why other women like to be submissive, you know, something like Fifty Shades of Grey."
The essay, titled "Man and Woman," began this way:
A man goes home and masturbates his typical fantasy. A woman on her knees. A woman tied up. A woman abused.

A woman enjoys intercourse with her man—as she fantasizes about being raped by 3 men simultaneously.
Published in an alternative newspaper called the Vermont Freeman, the essay caused a stir last week when Mother Jones unearthed it. It began with what was meant to be an attention-grabbing lede, in which Sanders described several sexual scenarios involving bondage and rape fantasies. 
"Very poorly written," Sanders said again on Meet the Press.
 CORRECTION: An earlier version of this article misstated the title of Sanders' essay. 
(Corrects essay title.)
Before it's here, it's on the Bloomberg Terminal.
LEARN MORE