On Lindsey Graham's Turf, Rand Paul Begins Patriot Act Endgame
The senator rallies across South Carolina and pledges to block the law.
By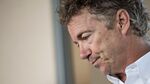 "Anybody here love liberty?" asked Rand Paul, eliciting a lusty cheer from around the bar. 
At least 200 people in Greenville, S.C. had crammed into Friday's edition of "Pints for Liberty," billed as a "free market happy hour" that had never before had a presidential candidate stop by. It had taken the Kentucky senator 10 minutes to work past the bar, through fans wearing T-shirts with his face on them, onto a stage where he could rally against the U.S. spying programs. 
Paul continued his call-and-response: "Anybody here love their privacy? Anybody think the Patriot Act ought to go?"
More cheering filled the room. One Paul fan waved a homemade sign, reading "The NSA should protect us, not hack us."
"We will have a debate Sunday night," said Paul, casting ahead to Sunday's unusual session in the U.S. Senate planned to debate the surveillance programs hours before they are due to expire. "It is uncertain what the outcome will be, but I can tell you for sure what my position will be. I'm gonna do anything and everything to make the Patriot Act go away." 

Saturday, in a statement, Paul laid out his rationale for blocking the renewal of the 2001 anti-spying law. Not just reforming it—killing it. "I will force the expiration of the NSA illegal spy program," Paul promised reporters. "Sometimes when the problem is big enough, you just have to start over." Hours later, he sent a version of that statement to his donor list, subject: "I'm forcing the Patriot Act to expire."
Paul, elected to the Senate nine years after the passage of the law, billed as a way to protect the homeland from terrorist threats, has never bothered to hide his contempt for it.  In 2011 he dismissed the law as something "enacted in such haste after 9/11," and thus ripe for scrutiny. Before his marathon Senate floor speech to delay the renewal, he called the statute "the most unpatriotic of acts."
On Friday, in South Carolina, he found a Republican electorate that had caught up with him. Paul barnstormed four locations across the upstate, an area that bleeds red in presidential elections and sends Representative Trey Gowdy and Representative Mick Mulvaney to Washington. He ended the day just 30 minutes from Central, S.C., where Senator Lindsey Graham was born and raised, and where, on Monday, the man who literally rolled his eyes when Paul spoke would announce his own presidential campaign.
At every stop, Paul spent at least half of his time attacking the Patriot Act. Twice, he lightly chided the media for assuming that the hawkish Republicans of South Carolina would be put off by talk like that.
"Don't be surprised that people in Washington don't get it," Paul said at a Republican lunch and book signing in Rock Hill. "They're about a decade behind and a dollar short. They don't understand what's going on in America, because they don't visit us enough. If you get outside the beltway of Washington, you'll find that the vast majority of people want some protections." If Republicans want to win in states like Illinois, Pennsylvania, and Colorado—all won handily by President Barack Obama in 2012—"we need to be the party of the entire Bill of Rights," Paul said. 
In the front row, a Vietnam veteran named Vernon Samuelson nodded along. Samuelson, who was selling apocalyptic-themed bumper stickers that read "01-17-2017: Obama's Last Day," was a little skeptical of Paul's foreign policy. "I agree with him totally," said Samuelson. "The Patriot Act was passed in the heat of emotion after 9/11. What was it that Benjamin Franklin said?" Samuelson paraphrased from memory: "Those that can give up liberty to obtain a little safety deserve neither."
This wasn't Graham's position, and Paul took a special pleasure in critiquing his colleague on his home turf. At several stops, he mentioned—without names, just actions—that Graham and Arizona Senator John McCain had stood against him. At the Beacon Drive-In Spartanburg, the self-proclaimed maker of the town's tastiest sweet tea, Paul referred obliquely to a senator who had a "senseless disregard for censoring the mail," a knock on Graham. In Greenville, he described other senators, all unnamed, who didn't seem to care about the Bill of Rights. 
"My message is more broad," Paul told Bloomberg after the Rock Hill speech. "My message for all South Carolina voters right now is that there are different kinds of Republicans, but I'm a Republican who thinks the Fourth Amendment is important. I think, really, if a majority of Republicans are asked that question about bulk collection, most Republicans and most Democrats and most Americans are against the program. I think the people who are defending it are really on the wrong side of history."
Why not mention Graham by name?
"Because I'm so nice," Paul deadpanned.
At times, Paul's focus on the Patriot Act worked like a skeleton key, unlocking doors that might have been slammed on him. Plenty of the voters who showed up for his rallies had problems with the senator's claim that Republican hawks, by urging the invasion of Iraq, had "created" the Islamic State militant group. Beverly Owensby, a Republican activist who was organizing a golf tournament to benefit veterans, said that the entire Patriot Act needed to be scrapped, but that the growth of Islamic State was the fault of Obama's hasty withdrawal from Iraq.
"We had stability in that country," she said. "When you pull everybody out and announce when you're leaving, you destroy everything you achieved."
Paul himself seemed ready to bracket off the debate about Iraq, at least until the Patriot Act debate was over. In Spartanburg, in an interview with TV reporter Nigel Robertson of WYFF, a Greenville NBC affiliate, Paul revised his comment about hawkish Republicans creating the conditions for Islamic State. "The word might have been a little strong," Paul said. "I think 'enable' might be a better word."
The senator was more comfortable when a voter at that event asked him about "all these Syrians and Iraqis" with refugee status being relocated to America—and to South Carolina in particular. Paul brought that back to the overarching theory of his Patriot Act fight. The people who said they knew how to secure America were clearly destroying their credibility, decision by decision and disaster by disaster, he suggested. 
"We brought in 60,000 Iraqi refugees in two years," Paul said. "My question is, I thought we won Iraq War. Why are they seeking asylum? They should be rebuilding their country. If 60,000 pro-West Iraqis are here that's 60,000 pro-West Iraqis not building their country."
Paul used the rest of his answer to free-associate other possible threats to privacy. Some had a connection to the National Security Agency's bulk collection program. Some did not, like the theoretical threat posed by proposals for handgun owners to register their weapons. Paul cited the example of a New York newspaper publishing the names of gun owners—information not collected by the federal government—to extrapolate what could happen if data on gun owners was leaked. "I don't want my address published," he said. "I don't want it published if I have a gun or don't have a gun—particularly if I don't have a gun."
Paul was on firmer ground when he argued, reductively, that the Patriot Act might not be necessary at all. "Remember the Boston bombers, the Tsarnaev boys?" asked Paul in Rock Hill. "The Russians tipped off us, we interviewed him, they could have arrested him, but I certainly think we had probable cause. Had I been the judge and they called me I would have said, hell yes, look at his record. Hell yes, look at his travel plan. Maybe we're spending too much money collecting everyone's records and not enough time."
Potential Republican voters across three cities, and four events, heard that message and cheered. None cheered quite so loudly, though, as the crowd at Pints for Liberty, whose number included a trio of North Carolina college students who'd road-tripped down to see Paul. They knew exactly who Paul was talking about—John McCain—when he described how one of the Republicans who opposed him had even defended indefinite detention for American citizens if they were identified as enemy combatants.
"I had this debate with another senator," recalled Paul, "and I said, 'Does that mean that an American citizen could be sent to Guantanamo Bay without a trial?' And his response was, 'Yes.'"
The crowd booed and heckled the absent, anonymous senator. "Treason!" shouted one man. "Treason!"
"I'll tell him you said that," joked Paul. "Not sure it'll do any good."