Why Bernie Sanders' Decades-Old Rape Fantasies Matter to 2016
Though written more than 40 years ago, the candidate's remarks still offend. And if he's a serious candidate, he shouldn't get a pass.
By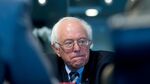 The reaction to what presidential hopeful Bernie Sanders wrote in an alternative newspaper in Vermont back in 1972 about men and women with rape fantasies has, of course, been divided: His defenders argue that the article is so far in the past that what he wrote then is irrelevant, while critics feel it's only fair to crown him this year's Todd Akin. (Unless you've mentally blocked it, perhaps in the same way that Akin said women can mentally block conception following "legitimate rape," you'll recall that the GOP congressman, who was Senator Claire McCaskill's Republican challenger in 2012, became his party's poster child for how not to talk about sexual violence.)
Conservative writer Dan Joseph sounds a common theme on the right when he argues that while reporters shrug over what Sanders wrote, if "Ted Cruz or Rick Santorum wrote something along these lines—even 40 years ago—the media wouldn't stop talking about it for weeks." Which is incontrovertibly true.
On the other side, a piece on the feminist outlet Jezebel attempts to thread the needle, both countering and conforming to Joseph's challenge. In that article, the whole thing is written off as the weird-but-so-what ramblings of "an aging hippie who—theory—might have been stoned out of his gourd while writing."
But here's the thing: There is no statute of limitations in presidential politics. And if Senator Sanders wants to be taken seriously as a candidate for the highest office, then the right answer is to note that what he wrote about rape 43 years ago, at the age of 31, is seriously messed up.
His essay, in the Vermont Freeman, begins this way:
A man goes home and masturbates his typical fantasy. A woman on her knees. A woman tied up. A woman abused.

A woman enjoys intercourse with her man—as she fantasizes about being raped by 3 men simultaneously.
Later in the piece, he seems to be saying that traditional gender roles are hurting both men and women, and need to be discarded ASAP. But that changes nothing about his starting point, which is that men typically fantasize about hurting and humiliating women, and women typically fantasize about gang rape.
The senator's own response to the story, which was broken by Mother Jones, was not at all serious. Michael Briggs, a Sanders campaign spokesman, told CNN it was just a "dumb attempt at dark satire in an alternative publication" that "in no way reflects his views or record on women. It was intended to attack gender stereotypes of the '70s, but it looks as stupid today as it was then.''
The statement doesn't begin to answer how Sanders thought about rape then and thinks about it now, or whether he feels his essay is not only "dumb" and "stupid" but also offensive. Do we in the media really only care about appalling views when Republicans and/or front-runners hold them?
Unless Sanders wants to be dismissed as a protest candidate whom we don't really need to hold to the same standard as someone who could win the White House, he will surely want to weigh in more thoughtfully on this important issue.