business
This Lunar Lander's Ready for Its Moonshot
Griffin is a leading contender in Google's XPrize lunar mission competition
By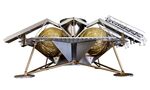 (Updates eighth paragraph to clarify that Moon Express is flight-testing its own lander.)
Innovator: William "Red" Whittaker
Age: 66
Founder of Astrobotic Technology and robotics professor at Carnegie Mellon University in Pittsburgh
Background
Whittaker, whose Ph.D. is in civil engineering, spent years leading Carnegie Mellon teams in Darpa robotics competitions. He says his goals have always included planetary exploration.
Form and function
Astrobotic's moon lander, Griffin, uses software to automate its navigation. It's a leading contender in Google's Lunar XPrize competition, which will award $20 million to the first team whose rover travels 500 meters (546 yards) on the moon.

1. Guidance Griffin, the first fully automated lander, has software that uses data from onboard cameras and laser range finders to detect and avoid obstacles.
2. Payload The lander carries a surface rover that is also tricked out with navigation software. 
Trial run
In April, NASA granted CMU students a flight on a suborbital rocket to test Griffin's sensors.
Funding
Through the XPrize Foundation, Astrobotic has received $1.75 million from Google for completing tests of landing, mobility, and imagery equipment. In May the startup got a $375,000 contract from NASA.
Rivals
Moon Express, the only U.S. team to match Astrobotic in landing and imagery, began flight-testing its own lander in December.
Next Steps
To reach the moon, Astrobotic needs to get its lander aboard a SpaceX Falcon 9 rocket, which costs $61 million a launch. The company is raising money for the trip by selling Griffin's 600 extra pounds of cargo space at $550,000 a pound, says Astrobotic Chief Executive Officer John Thornton. So far it's filled a third of that capacity, which will include two rovers from competing team Hakuto. 
Before it's here, it's on the Bloomberg Terminal.
LEARN MORE