pursuits
Scene Last Night: Perelman, De Blasio, Weill, Englander, Sussman
Amanda Gordon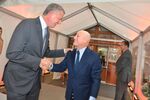 At Carnegie Hall on Thursday night, Sandy Weill said he's going to be Ron Perelman's shrink.
"You are going to see a nicer, kinder, less litigious Ron than you've seen in the past," said Weill, who this year passed the chairman's baton at the world-famous concert hall to the largest shareholder of Revlon.
After becoming a trustee in 1983 and chairman eight years later, Weill said he's "run out of steam" while his successor has the "brains and spirit and the energy to do it."
Now the president, Weill, 82, said Carnegie Hall needs to keep growing. During his tenure, he helped expand space and programs for performance and education.

"An organization that tries to protect its reputation and doesn't think about how it's going to grow and do more is not going to be a very good organization," said Weill, who rose from a stock runner to the helm of Citigroup in his Wall Street career.
Perelman, 72, chairman of MacAndrews & Forbes, said Carnegie Hall's executive and artistic director Clive Gillinson has a lot of ideas for how to reach more children and families.
"As the world develops, we've got to make classical music more accessible to everybody," he said.
The evening, during which Weill accepted Carnegie Hall's Medal of Excellence, raised more than $4 million, with tickets at $6,000 and up.
De Blasio's Arrival
Weill greeted guests in a one-man receiving line in the Weill Terrace Room. Israel Englander, Zev Rosenwaks and Alan Mnuchin were offered pigs in blankets, dressed with dollops of ketchup and mustard.

Mayor Bill de Blasio made his way into the dinner tent, leaning down and whispering something in Perelman's ear. Then Perelman gave him a pat on the cheek.
The mayor sat next to Perelman for the meal of dungeness crab risotto and lamb rack. Surrounded by bouquets of peonies, he talked with opera singer Isabel Leonard and Perelman's wife, psychiatrist Anna Chapman, as Perelman leaned into conversation with Tom Finkelpearl, the city's commissioner of cultural affairs.

De Blasio even outlasted Perelman at the event, lingering to shake hands after the titan had made his exit with many other guests.
"Whoever says he doesn't go out at night is wrong," Perelman said to the 250 guests, among them Edgar Bronfman Jr.; Ann Ziff; Macy's Chief Executive Officer Terry Lundgren; former Goldman Sachs partner Ed Forst, now CEO of Cushman & Wakefield; MasterCard CEO Ajay Banga and Lazard's Jeffrey Rosen. Donald Sussman and Joshua Nash, co-chairmen of Carnegie Hall's investment committee, were also there.
Lamkin, Liu
Weill sat next to Janet Lamkin, California state president at Bank of America, season sponsor at Carnegie Hall. Also at his table were Citigroup's Ida Liu, of the private bank, and Serge Tismen, of the investment bank, and Robert Kraft. Weill's wife of almost 60 years, Joan, presided at another table and received acknowledgment on stage as the member of the couple who's really in charge.

De Blasio, in almost 10 minutes of remarks during the first course, praised Weill for hailing from Brooklyn and for creating "a deeper model of inclusion" that gives residents of the outer boroughs exposure to the arts, both on and off its premises.
'Precious' Institution
"The power of art and music to transform the human trajectory is remarkable," de Blasio said, also making sure to describe Carnegie Hall in egalitarian terms.

"This is not an institution that people feel a distance from," he said wearing a gray suit at the non-black-tie event. Carnegie Hall is precious "but not precious because it is out of reach or only a few got to experience it, but precious because there's a feeling among New Yorkers that it belongs to all of us."
For all the New York pride, the mayor acknowledged he wished he were elsewhere at that moment.
"It's a tremendous honor to be with you at Carnegie Hall but my wife is at an arts conference in Florence this evening, and I am green with envy and I'm not afraid to say it," de Blasio said. "She did well with that one."
Before it's here, it's on the Bloomberg Terminal.
LEARN MORE