Rand Paul: No Patriot Compromise Yet, I'll 'Continue the Fight'
Civil liberties groups are starting to ask the Republican presidential candidate and senator to filibuster the whole thing.
By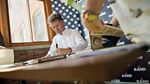 Speaking at a Republican Party meeting just days before the Patriot Act expires, Kentucky Senator Rand Paul said that there was no deal that could meet civil libertarians' demands. Paul been asking the Senate to consider two amendments to the law, down from the six he'd presented after his marathon speech last week. Yet the weeklong recess—some of which he's spent on the campaign trail—had not been used to smooth over differences.
"I've had no communication with anyone that's interested in negotiating," Paul told Bloomberg in Rock Hill, South Carolina.
In his 15-minute speech, Paul strongly suggested that he was ready to oppose an un-amended Patriot Act. "I've got to rest up, because we're going to back on Sunday to continue the fight," he told an audience of around 75 Republican activists. He walked them through the ways that the government could pore over bulk data to find personal, religious, and behavioral information about their lives, and argued that Patriot Act supporters were trading on unreasonable fears.
"People in my caucus up there in Washington will say, oh, if we had the Patriot Act, we'd have caught those two in San Diego, those two bombers, those two hijackers," Paul said. "Well, two of the 19 hijackers were living with an informant. We didn't know about them because the FBI didn't read the CIA's watch list. That's not an excuse for giving up the Constitution! We fought a revolution over this. John Adams said that the spark that led to the American revolution was James Otis's fight against general warrants."
Earlier today, a coalition of right- and left-wing groups issued an open letter that asked Paul to block any extension of the Patriot Act, "no matter what its form."