Rand Paul: No Patriot Compromise Yet, I'll 'Continue the Fight'
Civil liberties groups are starting to ask the Republican presidential candidate and senator to filibuster the whole thing.
By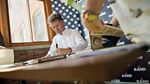 Speaking at a Republican Party meeting just days before the Patriot Act expires, Kentucky Senator Rand Paul said that there was no deal that could meet civil libertarians' demands. Paul been asking the Senate to consider two amendments to the law, down from the six he'd presented after his marathon speech last week. Yet the weeklong recess—some of which he's spent on the campaign trail—had not been used to smooth over differences.