Humana's Baby-Boomer Focus Makes Insurer a Prize for Cigna
Zachary Tracer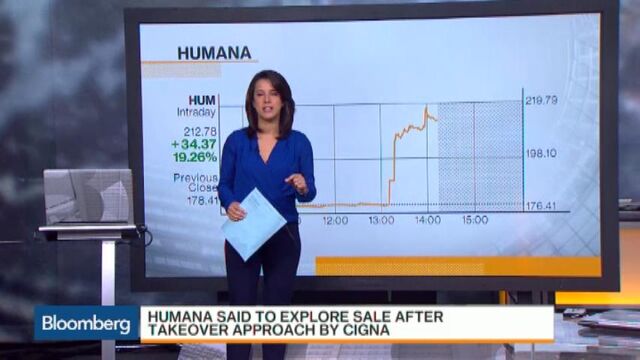 Humana Inc. has become an acquisition target thanks to its big presence in Medicare Advantage, the private-sector version of the U.S. program that's one of the fastest-growing pieces of the health insurance market.
Enrollment in Medicare is climbing as more Americans turn 65 and become eligible for the health program for the elderly and disabled. Membership is expected to rise to 68.4 million in 2023, up 26 percent from this year, according to the Centers for Medicare & Medicaid Services.
That's creating an opportunity for private insurers, who now cover about a third of the people in the Medicare program. And Humana has become one of the biggest suppliers. The company is now exploring a sale after being approached by Cigna Corp. about a deal, a person with knowledge of the matter said Friday.
Humana's individual Medicare Advantage enrollment jumped 15 percent to 2.7 million people in March from a year earlier, and the company has said it expects growth of about 13 percent this year. The insurer is No. 2 in that part of the business behind UnitedHealth Group Inc.
Humana is "pretty much a concentrated Medicare Advantage company," said Ana Gupte, an analyst at Leerink Partners. Growth in Medicare Advantage will be driven by "privatization and the demographics of the aging baby boomers."
Now the niche Humana has carved for itself is making it attractive to other insurers looking for new ways to grow. Insurance coverage has soared across the industry thanks to millions of new people signing up for coverage under the Patient Protection and Affordable Care Act. With that tidal wave subsiding, the industry is primed for a period of merger activity.
Catching Up
Cigna Corp. has lagged in the Medicare business, and could use Humana to catch up. The company has fewer than 500,000 Medicare Advantage customers, after acquiring HealthSpring Inc. for almost $4 billion in 2012.
Aetna Inc., which has 1.3 million private Medicare members, has also used acquisitions to bulk up. The company acquired Coventry Health Care Inc. for about $8.7 billion including debt in 2013, seeking to benefit from growth in Medicare and the Medicaid program for the poor.
Humana, based in Louisville, Kentucky, jumped 20 percent to a record $214.65 at the close in New York, giving the company a market value of $32.2 billion. Cigna is valued at $36.2 billion and Aetna is worth $41.2 billion.