politics
Hastert Payments Said to Have Been to Hide Sex Allegation
Del Quentin Wilber, Andrew Harris, Elizabeth Campbell and Billy House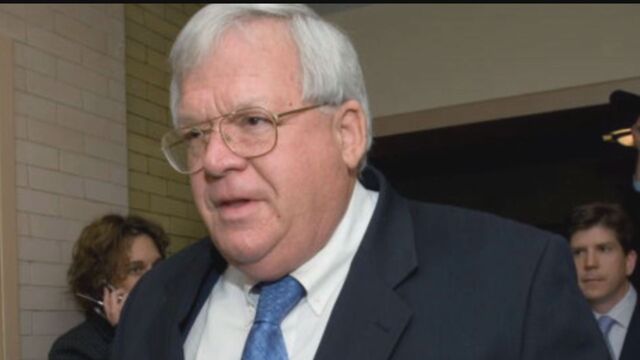 Former House Speaker Dennis Hastert paid an unnamed person to keep quiet about alleged sexual misconduct from his days as an Illinois high school teacher and wrestling coach, according to a U.S. official briefed on the probe.
The payments made to the individual, who's now an adult, were meant to protect Hastert's reputation, which would have been marred if the allegations surfaced, said the official, who described the case on condition of anonymity because the prosecution is still under way.
The official wouldn't say whether the person was one of Hastert's students or wrestlers, or was a juvenile at the time of the alleged misconduct. Hastert, 73, was indicted Thursday on federal charges of evading currency-reporting requirements and lying to the FBI as part of an alleged hush-money scheme.
The charges cast an immediate pall over his legacy as the longest-serving Republican speaker of the House. Hastert, from Plano, Illinois, about 56 miles west of Chicago, served in Congress from 1987 to 2007. He became speaker -- second in line of succession to the president -- as the Senate began its 1999 impeachment trial of Democrat Bill Clinton in a case involving his sexual relationship with a White House intern.
A court date hasn't been set for Hastert to answer the two felony charges against him, each punishable by as long as five years in prison if he's convicted. No defense attorney has filed to appear on his behalf since Thursday's indictment.
Hastert Resignations
Hastert has resigned from Dickstein Shapiro LLP, the Washington law firm where he's worked as a lobbyist since 2008, and quit his posts on the boards of CME Group Inc. and a Wheaton College policy center that bears his name.
A home telephone listing for Hastert couldn't be immediately located. Dickstein Shapiro attorney Justin Chiarodo, who's representing Hastert in a civil lawsuit pending at the same courthouse where he was charged, didn't immediately respond to an e-mail Friday seeking comment.
The Los Angeles Times reported the allegedly sexual nature of the unspecified misconduct described in the indictment earlier.
While still speaker in 2006, Hastert was among those chided by the House Ethics Committee for not "exercising appropriate diligence" in dealing swiftly with accusations about then-Representative Mark Foley's sexually explicit instant messages and e-mails to male congressional pages. Hastert's indictment may rekindle attention to that episode.
'Prior Misconduct'
Prosecutors said Thursday that Hastert withdrew $952,000 in small increments to avoid a requirement that banks report cash transactions exceeding $10,000. Those withdrawals were part of a plan to give an unnamed individual $3.5 million as payment for concealing "prior misconduct," Chicago U.S. Attorney Zachary Fardon said in a statement.
Starting in July 2012, Hastert began structuring his withdrawals in increments of less than $10,000 to evade currency transaction reports, prosecutors said, piquing FBI interest. When later questioned by Federal Bureau of Investigation agents, he told them he was keeping the cash, according to the indictment.
In reality, the U.S. alleged, it was going to "Individual A" a resident of Yorkville, Illinois, who has known Hastert most of that person's life.
Foxes Mascot
Located six miles (9.7 kilometers) due east of Plano, Yorkville, with a population of 17,740, has the feel of a small town. Its city hall, police station and public high school are situated on the same road. A red and white water tower looming overhead is emblazoned with the red and white of the school's mascot, the Foxes.
From 1965 to 1981, Hastert was a Yorkville High School teacher. He coached its wrestling and football teams.
Almost everyone from there has met Hastert at one time or another, Police Chief Rich Hart said Friday. The former speaker still comes through town every so often, according to Hart, who said he was shocked when he learned of the indictment from a radio news report.
"We're in the dark like everybody else on this," Hart said. "We don't have any information at all, a lot of curiosity."
School Unaware
The Yorkville school district said in a statement Friday it was unaware of any alleged wrongdoing by Hastert before the charges were announced and that no misconduct had been reported to it.
"If requested to do so, the district plans to cooperate fully with the U.S. attorney's investigation into this matter," the district said.
Individual A allegedly met with Hastert several times in 2010, broaching in at least one of those meetings, alleged "past misconduct" that occurred years earlier, according to the indictment. Hastert agreed to pay that person $3.5 million "to compensate for and conceal" it.
From 2010 to 2014, Hastert withdrew about $1.7 million from various bank accounts, prosecutors said. During the first two years, he took $50,000 from accounts at three separate banks, paying money to the person about every six weeks, according to the indictment.
$50,000 bundles
After being questioned by bank representatives about the withdrawals, Hastert started making them in increments of less than $10,000, turning over the money in $50,000 bundles "at pre-arranged meeting places and times," according to the indictment.
Last year, Hastert and Individual A changed their payment pattern to $100,000 every three months. Hastert continued making the sub-$10,000 withdrawals.
By that time, the FBI had started an investigation. Hastert is accused of lying about the transactions when questioned by the federal authorities in December.
"Yeah ... I kept the cash. That's what I'm doing," he said, according to the indictment.
The charges reverberated from Yorkville to the U.S. Capitol.
Kerin Harris, 79, who called herself a Hastert friend, said she's been following Yorkville High wrestling for more than 40 years. She has eight children who she said were taught by Hastert, including one son who was also coached by him. She also said she baked the cake for the wedding of Hastert's son.
Hastert was "never anything but a 100 percent wonderful man," she said at a beauty shop in Yorkville.
"I was stunned, that would be putting it mildly," said Harris, who still keeps score at wrestling matches. "I've been sick all day."
Pelosi, Boehner
California Democrat Nancy Pelosi, who succeeded Hastert as speaker in 2007, in an MSNBC interview called the indictment "very sad for him and sad, really, for the Congress."
Current speaker John Boehner, an Ohio Republican, in a statement echoed his predecessor.
"The Denny I served with worked hard on behalf of his constituents and his country," Boehner said. "I'm shocked and saddened to learn of these reports."
The case is U.S. v. Hastert, 15-cr-00315, U.S. District Court, Northern District of Illinois (Chicago).
(Updates with police chief's comment in 15th paragraph.)
Before it's here, it's on the Bloomberg Terminal.
LEARN MORE