Citi: Here Are a Bunch of Companies Spending More Money on Their Shareholders Than on Their Businesses
And why you should invest in them.
By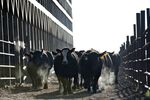 Carl Icahn may be on to something in his push for Apple to continue to send more money back to shareholders.
According to new research from Citigroup, companies that have been making higher payouts to their investors have been heavily rewarded by the market. The note suggests that Icahn's activist Apple strategy may pay off -- at least in the short-term. There is of course an ongoing debate -- which isn't addressed in the Citi note -- about the longer-term implications of companies opting to spend more of their money on dividends and share buybacks than on investment.
Citi's team of analysts, led by Chief Global Equity Strategist Robert Buckland, say that they expect the trend of lower corporate investment on things such as capital expenditure and higher shareholder payouts to continue this year. According to their research, global listed company investment fell by 6 percent in 2014 while dividends and buybacks rose 15 percent. In the U.S., corporates are now returning almost as much capital to shareholders as they are re-investing in their companies. 
They went on to explain why this is the case. 
In 2014, listed corporates reinvested $1.70 for every $1 they paid out to shareholders ...We think this reflects a number of factors. From the corporate perspective, CEOs remain uncertain about the global economic outlook and are therefore reluctant to commit to new projects. Cautious behavior may also reflect the impact of skeptical shareholders who have been burnt too many times by excess capex ... In addition, we suspect that the QE-induced search for yield has also put pressure on CEOs to favour dividends and share buybacks over capex and R&D. 
Here is a look at how this trend is materializing across different sectors.

The team also points out an impressive relationship between stock market returns and investment/payout ratios between 2010 and 2014. Basically, if you paid out more to shareholders, you were more likely to see your share price outperform.

Right now Citi's list of the top 50 "cash cow" stocks, or profitable companies that are returning more money to shareholders than they are reinvesting in their businesses, is dominated by the U.S. with American corporates taking 31 of of the spots.
The entire list has a median investment to payout ratio of 0.4 times, meaning that the companies pay out $1 for every $0.40 they put back into their business. 
Some notable names in the top 50 include Apple (which invested $16 billion in 2014 but returned a massive $56 billion to shareholders), 3M, McDonalds, Coca-Cola, Philip Morris, Altria, Medtronic, Walt Disney, Priceline, Visa, and Cisco.