Brazil Economy Shrinks Less Than Estimated in First Quarter
David Biller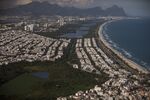 Brazil's economy contracted less than economists forecast in the first quarter, as the country braces for the biggest recession in 25 years.
Gross domestic product contracted 0.2 percent from the previous quarter, the national statistics agency said in Rio de Janeiro on Friday. That was a better result than expected by all but four of 42 economists surveyed by Bloomberg, whose median forecast was for a 0.5 percent decline.

"This is still a pretty bad GDP report," Neil Shearing, chief emerging-markets economist at Capital Economics, said by phone from London. "There's been a huge contraction in domestic demand. What rescued the GDP data was a big positive contribution from net trade."
Above-target inflation and the widest budget deficit in 16 years have eroded investor sentiment in Latin America's largest economy. Companies fired workers and consumers cut spending. To restore confidence, President Dilma Rousseff is raising taxes, reducing expenditures and boosting interest rates in a move that may constrain GDP in the second quarter.
Swap rates on the contract maturing in January 2016 rose three basis points, or 0.03 percentage point, to 13.82 percent. The real strengthened 0.3 percent to 3.1519 per U.S. dollar at 10:06 a.m. local time after depreciating 16 percent this year.
Industry, Services
The weaker currency may have contributed to the 5.7 percent increase in exports in the first quarter, according to Shearing. Industry contracted 0.3 percent, which was a better result than anticipated, according to Flavio Serrano, senior economist at BESI Brasil.
Investment fell 1.3 percent, recording its seventh-straight contraction. Family consumption dropped 1.5 percent, which was the worst result since the fourth quarter of 2008 when the economy headed toward its last recession.
"If you look at all the components of domestic demand, they recorded very, very sizable contractions," Alberto Ramos, chief Latin America economist at Goldman Sachs Group Inc., said by phone from New York. "Domestic demand really, really decelerated and contracted in the first quarter."
The government is "adamant" that its policies to shrink the deficit eventually will lead to a rebound in growth, Treasury Secretary Marcelo Barbosa Saintive said Thursday. He said the government made progress this week by convincing lawmakers to reduce pension benefits and access to unemployment insurance, while raising taxes on imports.
Still, Finance Minister Joaquim Levy considers estimates of a recovery in the second half of 2015 to be unrealistic, a government official with knowledge of his views said May 23. GDP in the first quarter fell 1.6 percent from the same period last year, versus a median forecast for a 1.8 percent decline, the statistics institute said.
Analysts surveyed by the central bank have lowered their 2015 GDP estimate in 17 of the past 19 weeks, to a decline of 1.24 percent. That would be the steepest fall in a quarter century. Before today's data, Banco Safra's Kawall had been poised to change his forecast to reflect a greater 2015 contraction. Now he is sticking to his prediction of a 1.3 percent decline.
"The second quarter should be the worst in the year, but it's somewhat reduced downside we had for GDP numbers for the year," Kawall said.