The App Store That Won't Make You Rich
One Mac app developer made it up to No. 8 with just 59 downloads
By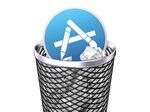 In May, Sam Soffes's friends started saying things to him like, "You're going to make 30 grand today!" From out of nowhere, his app, Redacted, hit No. 8 on the U.S. list of most-downloaded paid apps for Mac PCs, according to rankings website App Annie, and the congratulations began pouring in. The 26-year-old developer was elated until he logged into Apple's system to review his daily sales—a grand total of 94 downloads worldwide, including 59 in the U.S.
"If that's all it takes to be No. 8, that's pretty depressing," says Soffes, adding that he worked on the app for about 30 hours. Redacted, which lets users blur out sensitive parts of photos before posting them online, initially cost $5 to download, meaning those 94 sales left him a long way from 30 grand. Shortly thereafter, Soffes posted the sales figures on his personal blog. His account provides a rare window into the economics of Apple's software development community, a tale of two app stores.
When you think of the App Store with capital letters, you're probably thinking of the 1.4 million pieces of iOS software for smartphones and tablets that deliver their developers $10 billion in annual revenue. By contrast, there are a few thousand PC-only apps available in the Mac App Store, which has largely faded into the background since its 2011 introduction. Apple, which declined to comment for this story, said in January that annual revenue from its mobile apps rose 50 percent last year and helped create 627,000 U.S. jobs. Those figures don't include results from Mac apps.
Part of the challenge for the Mac App Store is simple math. Apple sold 237 million iPhones and iPads last year, compared with 19 million Macs, according to data compiled by Bloomberg. The total number of Macs in circulation is under 100 million, and apps don't work on some older models. Apps also aren't as necessary on a PC, where it's almost as easy to type a URL into a browser window as it is to tap an icon. "There are lots of people who do make money" on the Mac App Store, says Slaven Radic, chief executive officer of app marketing company Tapstream Network, "but nowhere near to what people on iOS do."
Developers set their own prices and keep 70 percent of the revenue, but that may not be enough to sustain independent PC app makers trying to make a name for themselves, says Dan Counsell, the founder of developer Realmac Software. For both PC and mobile developers, "the peak for indies on the App Store was around 2013. It was much easier back then to launch a financially successful app," Counsell wrote on his blog following Soffes's disclosures. "Things have changed. The larger, more established companies now take the lion's share of revenue." On May 6, Realmac's $5 iOS version of the to-do list app Clear ranked 65th among top mobile paid apps that day, generating $853.60 for the company after Apple took its cut. The $10 PC version ranked 15th on the Mac App Store and brought in $454.13, or about 65 downloads' worth.
Redacted, which peaked at No. 2 on the Mac App Store, sold 1,845 copies through May 19 and earned $6,600. The app got 423 downloads on its best day. Soffes is building an iOS version, but on May 4 he started at Venmo, the payment app maker. "I definitely made the right decision," he says.
The bottom line: Having a bestseller on the Mac App Store may not exactly set a developer up for retirement.
Before it's here, it's on the Bloomberg Terminal.
LEARN MORE