Cars
The Lamborghini Aventador Superveloce Blew My Mind in Barcelona
A Lamborghini superfan gets the ride of his life when he test drives a newer and lighter Aventador
By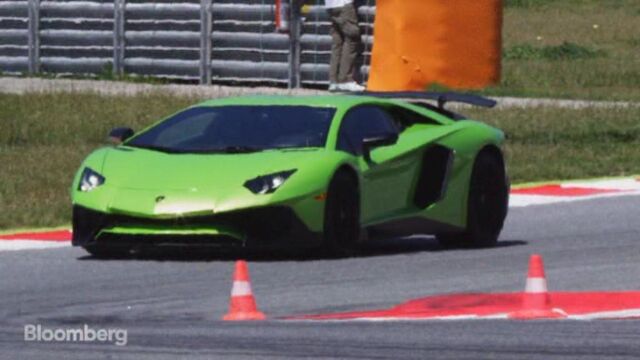 Lamborghini's newest Superveloce is a brutal beast, and it's better  in every possible way than the Aventador on which it's based. It may even be better than the $4 million ultra-limited, only-three-were-sold Veneno. And it costs less than an eighth the price.
The Aventador LP 750-4 SV—the formal name for Lambo's fourth Superveloce—shares the same 750 horsepower engine of the Veneno and weighs 110 pounds less than the base Aventador. It also has 170 percent more downforce and 150 percent more aerodynamic efficiency, plus it shifts gears faster, steers better, and rides more smoothly.You can buy this bad boy for $492,595 before tax, which will probably be a lot. And you'd better be quick: The SV hits dealers in June, and they've already taken orders for 500 of the 600 they'll make. I'm guessing most will be optioned with audio and navigation systems, plus rearview cameras, but to save weight, those don't come standard.
Though I can't afford the car even without the infotainment system, I accepted the invitation to be among the very first journalists to drive the new car at the world famous track at Barcelona-Catalunya—it was on this track that Michael Schumacher recorded his first Formula 1 victory at the wheel of a Ferrari and where Fernando Alonso got his first home-country win. It was here that Rossi taught Lorenzo a MotoGP lesson. It's kind of a big deal.

It was my first time on this track but not my first time in a Lamborghini. And this is where the disclaimer should go, stating that I am a Lambo fanboy. Not because I had posters of the Countach and Diablo on my wall as a teenage boy, though I did, but because I was lucky enough to get driving lessons from a factory instructor in the Aventador a few years ago, and the Haldex all-wheel drive system won me over.
So it was with great joy that I flipped up the trademark scissor doors on our radioactive green test car and punched the fighter-jet style ignition button. On starting, the 6.5 liter, V12 engine lets out a crisp, effervescent bark so loud it'll make you jump if you're within a quarter mile of the car. And that sound only gets better at speed. In fact, the sound is positively addictive, and it's one of the main reasons the company has resisted the regulatory pressure that has forced so many other manufacturers to use turbochargers to make more peak power.

We did a warm-up lap at 11 o'clock in the morning, but it felt unnecessary: The sun was already beating down on the perfect blacktop and the tires were already so grippy I had trouble throwing it into a slide until later in the day. Those tires, by the way, were developed by Pirelli specifically for the SV's recent lap of the Nürburgring at 6 minutes and 59 seconds—the second-fastest lap ever, after VW stablemate Porsche did it in 6:57 with a 918 Spyder.The 'Ring lap has become a standard measuring stick for supercars and hypercars of late, and executives behind the scenes are saying Porsche prepped for two weeks while Lamborghini just grabbed a 15-minute window and went. This is surely biased Italian exaggeration, but the point is Lambo thinks the SV can beat the Spyder, and you can bet they'll try again.
In any case, I wasn't threatening any world records at the Circuit de Catalunya, but I was using all the power as often as I could. The car will accelerate to 100 kilometers (62 miles) an hour in 2.8 seconds, according to Lamborghini, and the company is likely sandbagging that figure a bit. I'm guessing a zero-to-60 time of closer to 2.6 seconds with a driver lighter and more skilled than I. Chief Executive Stephen Winklemann said it now quotes zero-to-300 kmh times (24 seconds), because its cars are so fast. That's 186 miles per hour, by the way. In less than half a minute.
I didn't hit that number, but I was easily topping 250 kmh (155 mph) on the front straight at Catalunya, and then pounding the brake peddle to the floor to scrub off speed before my entry into turn one. For the first few laps I chose the middle "Sport" mode from three possible driving modes, which stiffens the suspension and allows the car to shift for you, so you don't have to worry about what gear you're in while you're learning a new track. 

But I didn't like the automatic. To me it didn't feel like it was picking the gears I needed very well, so I dialed it up to highest mode, "Corsa," which stiffens the suspension even more, reduces traction control, and forces you to shift for yourself, using the paddles. Wow—Lamborghini developed a new, single-clutch gearbox that brutally snaps up or down in less than 50 milliseconds. It will jolt you in your seat even at low speeds, unlike the smooth-as-butter dual-clutch box on the Aventador's more agile little brother, the 10-cylinder Huracan LP 610-4. The new one feels more like the quick shifter from a Ducati (which Lamborghini owns), and it is great fun on the track.
Countering that brutality are the new Magneride push-rod dampers, which measure the road surface a thousand times a second and adapt the best stiffness to suit the conditions. It basically keeps the rubber tight to the road, if set up correctly, and I felt as if it were working perfectly. It wasn't until my third lap that I got up the cojones to push the SV into understeer in turn three (not so much fun) or get the entire car to drift around turns 4 and 12 (a lot of fun). Any loss of traction is so easily restored by just letting off the throttle a little and then getting back on it.

That's why I love these cars. They really make you feel like a superhero—and I'm not a superhero. Dad-bod is a shape I aspire to. I'm 6'3" and 209-ish, but the cockpit is comfortable enough to spend hours in. I could spend days inside this Lamborghini, actually; the entire carbon-fiber tub is exposed, and it's gorgeous. The company has actually developed a soft carbon fiber "skin" that's lighter (and way more expensive) than leather. And the controls, though they look intimidating, are intuitive and easy to use. The Aventador is a balls-out, bonkers speed demon. Lambo has done everything to make it terrify you on paper, visually and aurally as well, while simultaneously making it a more drivable car to those of us not blessed with Super Trofeo skills. And the SV takes it even further in both directions.
A case in point is the new electronically assisted, variable steering system. First tried out on the Huracan but perfected for the SV, the Lamborghini Dynamic Steering makes the car more easily maneuverable at low speeds and more stable and precise when you're driving fast—essentially you don't have to turn the wheel as far to go around a corner while you're [bleeping] flying. It is awesome.
And it's necessary because most people who buy this car aren't going to keep it on the track all the time; they'll want to take it out to the canyons to explore the twisties or even to Starbucks to show it off. Problem is, this car is sincerely large. It's massive. At only 3,362 pounds dry, it's lighter than a Porsche 911 Turbo by 150 pounds but six inches wider and more than a foot longer. Plus, did I mention? It's loud.

Driving though the streets of Barcelona, we attracted all kinds of attention, some of it good, and some of it less so. When the police pulled up behind me and flashed their lights, I thought they just wanted to check out this half-million-dollar toy. Turns out I was breaking some local noise pollution laws. The lowest drive mode, "Strada," fixes that, baffling the exhaust. And the automatic transmission works much better in that setting, as well, for around-town driving. But who wants to drive a Lamborghini in the lowest setting?
Bottom line, this is not a car that was built for the city streets of Barcelona, Starbucks runs, or someone who doesn't want to shift his gears himself. It was built for the Circuit de Catalunya. It was built for the Nurburgring. And it was built to impress. The Aventador was already the most aggressive looking car in production, and one of the most insane performers as well, but Lamborghini takes it a step further with the SV. This car is about excess—sheer, brutal excess. And I applaud that, even if I will never be able to buy one. 
Before it's here, it's on the Bloomberg Terminal.
LEARN MORE