Rick Santorum, George Stephanopoulos Take Heat from...Herman Cain
The former Godfather's Pizza CEO's Twitter burn was three years in the making.
By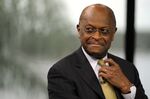 Old rivalries die hard.
Former Godfather's Pizza CEO Herman Cain appeared to attack former Pennsylvania senator and 2012 presidential campaign foe Rick Santorum on Twitter on Thursday, one day after Santorum announced he would make another run for the White House.
"Rick Santorum announces doomed presidential bid in interview with pretend journalist," said a tweet from @THEHermainCain, the verified account for the former pizza exec. The tweet pictured Santorum and ABC News host George Stephanopoulos and linked to a story on CainTV.com by Robert Laurie, a regular contributor to the site that ran under the same headline. 
During the 2012 cycle, Santorum frequently criticized Cain's social conservative bona fides and his so-called 9-9-9 tax plan. "I think conservatives, after they look at his record and look at what he believes in, are going to question whether he really is a conviction conservative, particularly on some of these moral/cultural issues and Second Amendment issue," Santorum said of Cain in 2011 on CBS's Face the Nation, according to transcripts.
After sexual-misconduct allegations shook his campaign, Cain dropped out of the race, and, like Santorum, eventually endorsed the party's nominee, Mitt Romney. 
The Santorum campaign and ABC News did not immediately return requests for comment. E-mails to CainTV.com asking whether Cain himself had authored the tweet were not immediately returned, and calls went to a full voicemail.
Stephanopoulos has come under criticism for having donated to the Clinton Foundation while covering the 2016 race. The former Bill Clinton aide apologized on air May 15 for not disclosing the money.