politics
New Pro-O'Malley Super PAC Draws A Generational Contrast With Clinton
Two longtime allies to the Democratic presidential hopeful set up a super PAC to boost his long odds.
By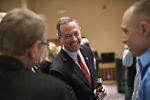 A newly minted pro-Martin O'Malley super-PAC is gearing up to emphasize the former governor's youth and draw a generational contrast with front-runner Hillary Clinton in the Democratic presidential contest.
The name of the group plays on the theme: Generation Forward PAC. "It's time to pass the torch of leadership," its website says. The underlying point is obvious: O'Malley, 52, is a decade and a half younger than Clinton.
"Our message is that Governor O'Malley can put forward the best principles and best policies for the next generation of Americans," said Ron Boehmer, a former aide to the ex-governor and communications director for the super PAC. He and longtime O'Malley associate Damian O'Doherty, who will be CEO, filed the papers Wednesday ahead of an expected campaign launch Saturday.
The generational difference "will be important," argued Boehmer, who doubles as a "millennial adviser" to the new PAC. "Millennials are one of the largest blocs in this country. They're underrepresented in government and they're turning away from politics. We believe his leadership style will drive millennials to the voting booth in 2016."
O'Malley has an extremely steep hill to climb. A Quinnipiac poll out Thursday found him with the support of a mere one percent of Democrats; Clinton had 57 percent and Vermont Senator Bernie Sanders had 15 percent. The 73-year-old Sanders announced his candidacy one month ago and has since made a strong play for the the party's left flank, complicating O'Malley's hopes of gaining traction in that space.
While most super PACs focus heavily on TV ads, Boehmer said his group will also engage in campus organizing and field work in Iowa and New Hampshire.
Asked flatly if he thinks Clinton, 67, is too old to be president, the O'Malley loyalist didn't say yes or no: "I believe that Governor O'Malley can best connect with the younger generations in this country."
Before it's here, it's on the Bloomberg Terminal.
LEARN MORE