How Marco Rubio Is Using the Obama Playbook Against Clinton—and Bush
The Republican presidential candidate boldly goes where Barack Obama has gone before, betting that Americans will again pick youth over experience.
By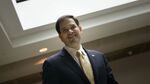 A charismatic young first-term senator with with an unusual background and inspiring life story defies long odds to defeat a titan of American politics and win the presidency by capturing the country's imagination as a fresh face for a new generation.
In 2008, that was Barack Obama. Now Florida Senator Marco Rubio, who turns 44 on Thursday, is using the same playbook—nominally aimed at presumptive Democratic front-runner Hillary Clinton, but conveniently doubling as a case against top Republican rival Jeb Bush—in a similarly audacious quest for the White House.
"No one is entitled to the presidency, and no candidate has the right to skip the process of laying out a vision simply because he or she has the deepest connections in Washington or the most money in big-dollar donations," Rubio wrote in a Wednesday post on his campaign website. "In this country, what your last name is, what life you were born into, or how much money you have does not determine who you can be, where you can go, or what opportunities you can enjoy." The ostensible target was Democratic front-runner Clinton. But the carefully gender-neutral pronouns and the anti-dynastic rhetoric suggested that Rubio intended his volley to do double duty.
Rubio is likely to be underscoring his potential to expand the Republican base on Thursday as he makes his first trip as a presidential candidate to Nevada, a state where 26 percent of the population is Hispanic. Rubio will visit a pawn shop to highlight his commitment to small business and will hold a roundtable with local tech startups. Bush, meanwhile, will be keynoting a Republican Party dinner in Michigan, though the latest member of America's best-known Republican dynasty to seek the White House has not yet made his intentions official. 
Ideological polar opposites though they may be, there are striking parallels between Obama and Rubio. Both are ethnic minorities in a profession dominated by whites who enjoyed meteoric career rises and quickly catapulted into the top tier of presidential contenders. Both felt restless in the Senate and gambled in their first terms for the biggest prize in politics. And both levied their extraordinary communication skills to premise a case for president on come-from-nothing personal stories that define the American Dream.
"I would say that he [Rubio] is the Barack Obama of the Republican Party right now. His life story is captivating to people," Democratic strategist Steve McMahon said recently on Bloomberg TV's With All Due Respect, predicting Rubio will be the Republican nominee. He said the stories about his immigrant parents toiling so he could succeed "just melts your heart. It melts my heart. So I think he's got a very compelling story. And people are drawn to him."
The strategy and rhetoric that Obama used in facing the wife of a former president is echoed by Rubio, who before he can challenge Clinton, must first triumph over a crowded primary field that includes a man whose brother and father were the most recent Republican presidents. 
Echoes of Obama 
Both played up the value of letting a new generation of leaders take the wheel. In his 2007 announcement a 45-year-old Obama said: "Each and every time, a new generation has risen up and done what's needed to be done. Today we are called once more—and it is time for our generation to answer that call." In his April announcement Rubio said: "Now, the time has come for our generation to lead the way toward a new American Century."
Both used the exact same word to describe their pursuit: "improbable."
Obama spoke of "a future of endless possibility stretching before us." Rubio said his candidacy is about "the promise of our future." Obama said: "I've been there long enough to know that the ways of Washington must change." Rubio: "We must change the decisions we are making by changing the people who are making them."
These themes held throughout Obama's successful quest in 2008, and they have remained a centerpiece of Rubio's nascent campaign. The message has irked Democrats, who believe it is belied by what they describe as old and stale policy ideas offered by the Floridian.
For Rubio, drawing a sharp contrast with Clinton is a primary strategy in more ways than one, because many Republican voters and donors want to nominate a candidate they think can defeat the formidable Democrat.
Will Rubio's message succeed?
"Yesterday is over, and we are never going back," Rubio proclaimed in his announcement speech. The message underneath it is buttressed by recent history: the most recent three presidents—Obama, George W. Bush, and Bill Clinton—were all less politically experienced than their opponents, John McCain, Al Gore, and Bob Dole. Each time the relatively fresh face defeated a known quantity with decades of experience in Washington. Rubio's bet is Americans will chose youth over experience again.
Rubio's generational argument "will help, but it's no guarantee of success," said Jack Pitney, a political science professor at Claremont McKenna College, noting that voters will look at other factors like policy positions and experience. One reason it may not work as well for Rubio as it did for Obama, he said, is that the Republican primary electorate has fewer young voters and lacks the strength with Hispanics that Democrats have with African-Americans.
"The Democrats' younger generation includes the coalition of the ascendant. In the Republican Party young people are just as pale as old people," Pitney said. "In most states you just don't have a large Hispanic vote in Republican primaries. You have some in Florida. But in most states the Hispanic share of the Republican primary electorate is not large."
Moreover, nominating Rubio would require many Republicans to backtrack on seven years worth of complaints about a president who, they contend, lacked the necessary experience for the job. The most recent example surfaced Wednesday, in a spat between two of Rubio's presidential rivals. Attacking Senator Rand Paul for controversial statements on the rise of the Islamic State, Louisiana Governor Bobby Jindal sneered that the Kentuckian is "a one-term senator with no executive experience and we all know how that has worked out in the current administration." 
Even so, some strategists note that Rubio brings fresh energy to his party in the same way that Obama did for Democrats. "Republicans are looking for that elusive happy warrior who can articulate conservatism with a smile, optimism, and make the believers out of skeptics," said Rick Wilson, a Republican strategist based in Florida. "Many folks are saying Rubio has it in ways no other GOP candidate has shown in decades."