Former Lehman CEO Dick Fuld Calls for New Political Leadership
Zeke Faux and Devin Banerjee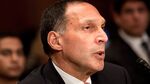 Richard Fuld, who ran Lehman Brothers Holdings Inc. until its 2008 collapse, told a gathering of penny-stock investors that the U.S. needs new leaders in government.
"I don't want to get into a political dissertation, but we need new leadership," Fuld said Thursday at the Marcum MicroCap Conference in New York, receiving a round of applause during his first public address since the financial crisis.
Once one of the most powerful men on Wall Street, Fuld now runs a consulting firm for small companies and is working on a plan for a stock exchange to make it easier for them to go public. When he ran Lehman, Fuld mingled with central bankers, prime ministers and some of the highest fliers in finance.
Lehman filed for the largest corporate bankruptcy in U.S. history on Sept. 15, 2008, accelerating the worst financial crisis since the Great Depression. Less than two months later, Americans elected Barack Obama as president. The U.S. will choose a new president in 2016 following Obama's second term.