markets
Five Things Everyone Will Be Talking About Today
A lot happened while you were sleeping, get caught up here
By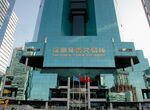 Chinese stocks plunge, the Nikkei rallies and a FIFA probe rattles the Qatari equity market. Here are some of the things that people are talking about in markets today.
Chinese stocks meet gravity
China's world beating rally has been fueled to some extent by record growth in margin debt, so when some of the country's leading brokerages moved to tighten lending today the inevitable happened: The Shanghai Composite plunged 6.5 percent, the biggest one-day loss in four months. The Shenzhen Composite didn't get off lightly either, dropping 5.52 percent.
Hanergy under investigation
Last week we wrote about a Chinese company called Hanergy Thin Film Power Group, which trades in Hong Kong and lost almost half of its value in about 24 minutes for no immediately apparent reason. Today, not long after the Chairman of Hanergy himself dismissed reports of a probe as "purely rumor," the Hong Kong Securities Commission confirmed it's investigating the company.
Japanese stocks rally
The equity market's winning streak continued in today's session after the Yen briefly touched a December 2002 low against the dollar. The Nikkei 225 finished the day in the green for a tenth straight day, the longest stretch of daily gains since 1988. Since the start of 2013, the Japanese currency has dropped almost 30 percent against the dollar.
Greek contagion risk does exist
That's the European Central Bank's view. In its Financial Stability Review the ECB said "in the absence of a quick agreement on structural implementation needs, the risk of an upward adjustment of the risk premia demanded on vulnerable euro-area sovereigns could materialize." In plain English, if Greece doesn't reach a deal with creditors soon then bond yields in other euro zone countries could rise.
FIFA probe shakes Qatar's stock market
Qatari stocks continue to slide after Swiss authorities said they're probing the vote that awarded the country the 2022 World Cup. The QE Index dropped 1.5 percent yesterday and sank as much as 2.88 percent at one point today.
Before it's here, it's on the Bloomberg Terminal.
LEARN MORE