FIFA's Blatter Told to 'Have Some Shame' by Protesters in Zurich
Roxana Zega and Elena Logutenkova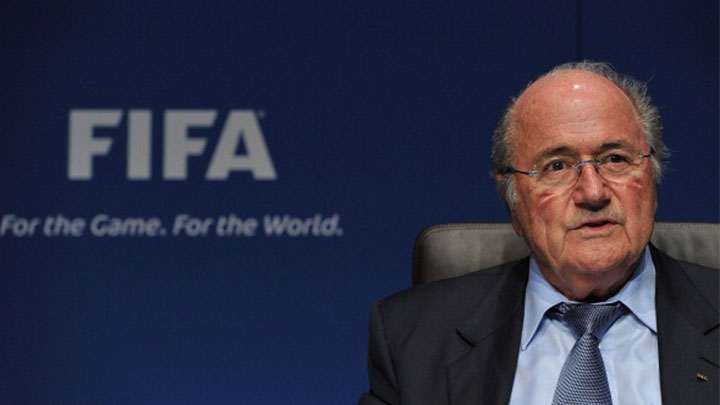 Joseph "Sepp" Blatter drew the wrath of protesters in Zurich ahead of FIFA's 65th congress, where he's standing for re-election as the president of soccer's global governing body.
The more than 20 people demonstrating in front of Hallenstadion in Zurich, where the congress is set to start late Thursday, demanded that he resign after seven FIFA officials were arrested Wednesday on corruption charges.
"Victory for a beautiful game; Blatter Blatter have some shame!" the protestors chanted.
The demonstration was organized by Avaaz, an international civil organization with more than 41 million members, to draw attention to labor laws in Qatar, host of the 2022 soccer World Cup. The protesters, wearing blue worker suits and yellow hard hats, carried banners that read: "Game over for Blatter" and "Give slavery the red card." They handed over two petitions to a FIFA delegation led by spokeswoman Delia Fischer.
Avaaz, launched in 2007, is pleading with Qatari authorities, FIFA and construction companies to change labor laws in the Arab country after the deaths of some laborers working on World Cup sites. That petition has been signed by 850,000 people, according to Avaaz. The petition against Blatter, launched Thursday morning, has drawn more than 529,000 signatories, according to the group's website. Avaaz said it expects to go close to 1 million on Friday.
FIFA's Woes
"The man who has been at the helm of this organization when this massive corruption took place needs to step down," Alaphia Zoyab, a global campaigner for Avaaz, said in an interview at the protest. "Sepp Blatter needs to go. Qatar needs to commit to a timeline of reform and FIFA itself needs to clean up its act."
The protests add to FIFA's woes after Swiss police entered the luxury Baur au Lac hotel in Zurich in a dramatic dawn raid on Wednesday and arrested seven of its officials.
Swiss prosecutors opened criminal proceedings related to the awarding of the 2018 and 2022 World Cup games to Russia and Qatar respectively. Separately, the U.S. indicted nine FIFA officials for racketeering, wire fraud and money laundering conspiracies.
While the charges stop short of naming Blatter, a native of Switzerland, his future was thrown into question as he's seeking to extend his 17-year hold on FIFA.
Under his reign, the organization has endured one scandal after another. In recent months, FIFA has been under pressure to act over the treatment of migrant workers in Qatar following the deaths of mainly South Indian laborers brought in to work on World Cup projects. Russia has also been criticized about racism and homophobic incidents at soccer stadiums.
Sport Rocked
FIFA spokeswoman Fischer assured protesters of efforts to improve working conditions in Qatar.
"Even without the World Cup, the construction business would continue in Qatar," she said. "We initiated a dialog with the unions and this is the highest priority even for the president. The standard for any construction worker working on the stadium has been definitely raised to international standards."
Meanwhile, the corruption scandals on Blatter's watch have rocked the sport and drawn criticism from the game's sponsors and FIFA members.
"On Monday I thought President Blatter would easily win the elections; now I'm not so sure anymore," Randolph Harris, president of Barbados Football Association, told reporters as he entered Hallenstadion.
Facing Pressure
Seventy-eight percent of respondents in a survey by Swiss French-speaking newspaper Le Matin published on Thursday said that Blatter should go. Just 5 percent say he should stay.
The 209 national member associations of FIFA are due to vote on Friday to elect the body's president. Blatter, 79, who was meeting with regional soccer chiefs Thursday, refused to quit when asked by Michel Platini, who heads the Union of European Football Associations, according to John Delaney, the CEO of the Football Association of Ireland.
Blatter's only challenger is Prince Ali Bin Al Hussein of Jordan.
"I hope Blatter finally faces the pressure to step down, but we know how he can cling to power," said Avaaz's Zoyab.