ECB Asked by EU Ombudsman to Explain Closed-Doors Speech
Jeff Black and Alessandro Speciale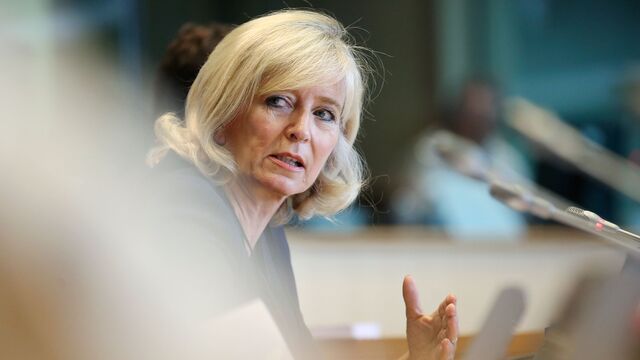 The European Central Bank should explain why market-sensitive information was disclosed to a limited audience in a speech on May 18, the European Union's ombudsman said.
"I should be grateful if the ECB could provide a more detailed account of the incident in question and in particular of the measures it has taken to avoid a similar incident," the ombudsman, Emily O'Reilly, said in a letter to ECB President Mario Draghi published on her office's website. "For obvious reasons, your reply should in principle be public."
A spokesman for the ECB said it will respond to the request and that the answer will be public.
The ombudsman's letter relates to a dinner speech by ECB Executive Board member Benoit Coeure after a restricted-access event in London, which was co-hosted by a research group funded by hedge fund Brevan Howard Asset Management. He said the central bank planned to accelerate bond purchases in May and June to avoid falling short of its quantitative-easing target during the summer lull. The euro fell and bonds and stocks rallied when the ECB published the speech online the next day.
"The ECB has explained that the delay between the delivery and publication of the speech in question resulted from an 'internal procedural error' and that the ECB had taken steps to ensure that there would be no repeat of the problem," O'Reilly said. "I would be grateful to receive a reply from the ECB within the next fortnight."
Chatham House
The EU ombudsman investigates complaints about maladministration in EU institutions, bodies, offices, and agencies, according to a document published on its website explaining its functions. The letter doesn't say who filed a complaint against the ECB.
The ECB said that it had originally planned to release Coeure's remarks on the day of the event. It also said the speech was covered by Chatham House Rules, meaning it wouldn't normally be published.
Internal ECB guidelines stress that staff members shall "maintain caution in their relations with interest groups and the media."
Before it's here, it's on the Bloomberg Terminal.
LEARN MORE