The 10 Most Important Things Google Announced Yesterday
Google I/O overdelivers, again
By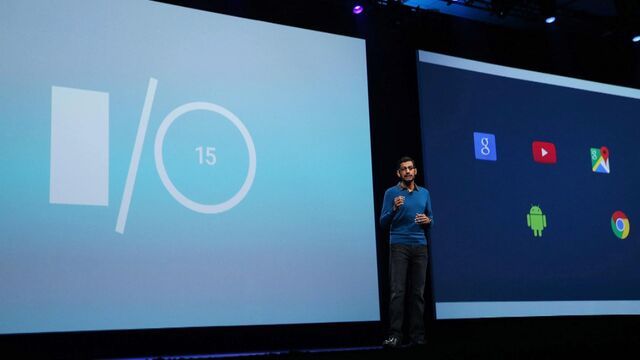 Google Inc. can't seem to resist the temptation to show programmers all its latest and greatest — and to keep adding to the pile every year.
Google introduced technologies ranging from a brand new mobile-payments system to a virtual-reality camera rig in front of more than 6,000 software engineers at the Web company's I/O developer's conference in San Francisco. That's in stark contrast to Apple Inc., which tends to focus on a few top-priority products at its annual developer's conference, which will take place in less than two weeks.
Here's a compilation of everything you need to know from this year's techfest:
Android M
The next iteration of Google's operating system, which runs on 79 percent of smartphones around the globe, is getting a security makeover, with more robust privacy controls and restrictions on apps' data access. Fingerprint scanning will also become a more integral part of Android, adding another layer of security.
While the last version represented an overhaul of Android's look and feel — colors and designs throughout the software — Google put more focus this year on revamping the mobile operating system's basic building blocks. Case in point: Android M will include a new feature called Doze, which dials power usage down to a trickle when a smartphone or tablet detects that it isn't being used. Google is also adding more capabilities for faster battery charging and power management.

"For M, we have gone back to the basics," said Sundar Pichai, Google's senior vice president of products. "We have really focused on polish and quality."
Cardboard
Of all the gadgets Google unveiled at last year's event, Google Cardboard was a surprise hit, putting virtual reality into the hands of everyday users without the high costs that come with specialized devices, such as the Oculus Rift.

Now, Google is taking the gadget more seriously, seeing it as a way to catch up to Facebook Inc. and Microsoft Corp. in virtual reality. It's also a way to get affordable, wow-factor technology into more peoples' hands, drawing them closer to Google's  Web-based services.
Underscoring Google's ambitions, Jon Wiley, lead designer for its main Web-search service, was sent in to lead design efforts for its cardboard and virtual reality initiative. The new cardboard design makes it easier to set up and use. Another tidbit that could make things interesting: Google is opening up the Cardboard software standard for Apple's iOS.
As part Google's virtual-reality effort, the company also introduced Jump, a camera rig made up of 16 GoPro cameras to capture 360 degrees of video to help create virtual environments.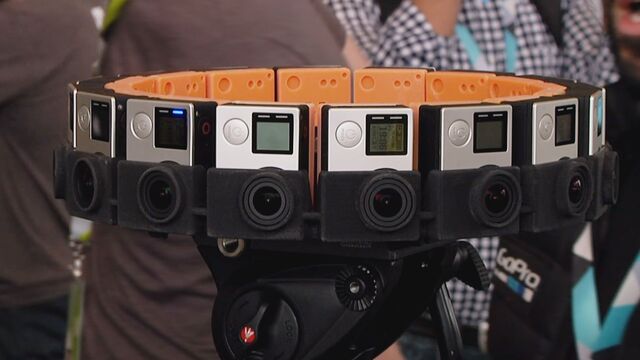 Now on Tap
Google Now is the Web company's version of a personal assistant, an app that's always ready to offer users information on everything from commute times to restaurant reservations. The new twist is that Google is making Now smarter and calling it Now on Tap. 
The upgraded digital assistant will make it easier for people to look up information regardless of what app they're using. This will help address growing concerns among Google's investors that it's no longer the first Web destination for users, who are going to mobile applications and shopping websites such as Amazon.com Inc. to find what they're looking for.
Now on Tap could bring Google back to the center of people's digital lives, acting as a virtual helper that's always ready to look up information or assist in a task. For example, a user could find more information about an artist while listening to music on a smartphone, or help to find flights while a trip is being planned in a messaging app.
Google Photos
While it might seem like a minor upgrade, Google just solved a major problem for mobile users in one fell swoop by enabling unlimited free storage for photos and videos.
Similar to the "unlimited" storage that Google offers with Gmail, Google Photos will let users store, organize and view their digital images without any monthly or annual fees. Apple, as well as a host of other Web companies, offer online photo storage, but they usually start charging when data exceeds certain limits, or for high-quality image storage. 

Android Pay
Google has sought to break into mobile payments for years, with little to show for it. So the company is taking another stab at turning peoples' smartphones into digital wallets.

The new Android Pay feature, which will work for Android M and the two preceding versions of the mobile software, will let shoppers buy goods in stores by tapping their phone on a payment terminal in about 700,000 U.S. locations and in over 1,000 apps, including car service Lyft.
A new element that will help Google compete with Apple Pay, which debuted last year and has gained some success, is the inclusion of loyalty points, coupons and offers. That could make Android Pay more appealing for consumers, who are still getting used to the idea of mobile payments.
Google Take Maps Offline
With all the talk of cloud services and streaming media, it's easy to forget that for many people around the world, a mobile data connection is a scarce, expensive resource. To make such existing products as Maps better suited to these customers, Google is adding both search and turn-by-turn directions to the app's offline mode. 
These offline Maps developments come on the back of other modified and pared-down services. Most notably, there is YouTube Offline, a service available in India, Indonesia, the Philippines, and Vietnam, that lets users download videos to mobile devices via Wi-Fi that can be watched without a connection over the next 48 hours.
HBO Now
Apple already stole the show by announcing the online-only version of HBO for its own devices last month. (HBO Now lets people pay $14.99 a month for access to the network's movies and TV shows, untethered to a cable or satellite subscription). 
Time Warner Inc.'s premium pay-TV channel will now join Google Play's lineup, making HBO available across all of Google's devices. 
Project Brillo 
Google knows that it needs to play a role in home automation — that much is clear after it paid $3.2 billion to acquire digital thermostat maker Nest Labs in February 2014. Oddly enough, there weren't any major hardware announcements or an appearance by ex-Apple executive Tony Fadell, who co-founded Nest and is leading digital-home efforts. 
Instead, Google unveiled Project Brillo, a set of technologies to connect more household items to the Web. The platform aims to make it simpler for developers to build applications for everyday devices, Pichai said. The company also announced a system called Weave to help with communication between devices.
Universal App Campaigns
Google also introduced a one-stop-shop that will make it easier for marketers and developers to buy ads for app downloads on mobile devices, seeking to boost sales and take share from Facebook Inc. While ad technology isn't as sexy as new hardware or software, it's important because it fuels Google's revenue, which is projected to total almost $60 billion this year, according to data compiled by Bloomberg.
Universal App Campaigns will make the app-advertising process easier and quicker, Jonathan Alferness, a Google vice president, wrote in in a blog post Thursday. With the initiative, Google is aiming to sign up smaller software developers or customers looking to automate their application-marketing campaigns.
The new ad product is part of Google's efforts to drive more promotions around mobile-software installations and app stores. That will also help generate more revenue for programmers developing Android apps, as well as Google's services.
Android 101 
Google is teaming up with Udacity to give Android developers a curriculum to help tackle the growing demands of the mobile operating system. The Android Nanodegree will take six to nine months to complete and costs $200 a month, said Sebastian Thrun, Udacity's chief executive officer. Google created the coursework for the certificate, using its own experts and developers.

Many apps "are very poorly written," said Thrun, a former head of the Google X research laboratory. The program will help "people to become really excellent app developers."
Google is seeking ways to encourage software engineers to build better apps for Android, which dominates the smartphone market. That means engaging users on everything from cool games to communication features.
— With assistance from Brian Womack, Joshua Topolsky, Stephen Pulvirent, Olga Kharif and Joshua Brustein