Altice Isn't Leaving the U.S. Soon
The Luxembourg-based company lost Time Warner Cable, but it's not giving up on America
By , , and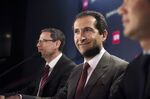 Altice Chairman Patrick Drahi's recent trip to America didn't go quite as planned. The French billionaire, who made a fortune by cobbling together a string of cable and telecommunications acquisitions across Europe, met privately with Time Warner Cable Chief Executive Officer Rob Marcus in mid-May to discuss buying Time Warner Cable. About a week later, America's second-largest cable operator agreed to a $55 billion buyout by John Malone's Charter Communications. That doesn't mean Drahi is heading back home in defeat. Instead, the French tycoon plans to build his U.S. footprint by acquiring control of smaller cable operators, according to two people with knowledge of the matter.
Smaller players in the U.S. such as Cox Communications, Cablevision Systems, and Mediacom Communications are expected to grow in value as heavyweights such as Comcast and soon-to-merge Charter continue to gobble up rivals that allow them to expand their reach and engineer cost efficiencies.
Drahi, the third-richest person in France, made his first move on May 20 when Altice, his Luxembourg-based holding company, agreed to acquire 70 percent of No. 7 U.S. cable operator Suddenlink Communications in a deal worth $9.1 billion. Altice Chief Executive Officer Dexter Goei said during an analyst call that everything in the U.S. "below Comcast effectively is in consolidation mode. We clearly expect to be right in the middle of that consolidation."
Altice will look at assets that the combined TWC-Charter may decide to divest to alleviate antitrust concerns, Drahi told a hearing at France's National Assembly on May 27. Suddenlink has only about 1.5 million customers in North Carolina, Texas, and 13 other states. But the people familiar with the situation say that Altice plans to follow the same acquisition-driven expansion strategy in the U.S. as it employed in Europe. Altice has said it ultimately aims to have the U.S. contribute up to half its business.

A bidding war over TWC is unlikely, as the Charter offer is seen as too high for Altice to beat, according to the people. "Drahi is an aggressive cost-cutter, and his presence forced Malone to move quicker," says Matthew Harrigan, an analyst at Wunderlich Securities. "They wanted to lock this down."
Altice had financing from banks lined up for a TWC buyout, according to the people. Ultimately, Drahi decided not to rush into an acquisition because Altice didn't immediately have the scope to manage and absorb the company, Drahi told the National Assembly. Trying to beat Charter's $195.71-a-share offer would require Altice to increase its leverage ratio significantly and engineer a large capital increase to fund the purchase, diluting Drahi's stake in Altice, the people say. The company already had more than €24 billion ($26.1 billion) in net debt before the Suddenlink deal, which it will finance by borrowing $6.7 billion.
ING Group analyst Emmanuel Carlier says Altice made the right decision, even though it may have had a better regulatory shot at buying TWC than Charter. Altice would have controlled 15 percent of the U.S. broadband market if it had bought TWC, while Charter would control 20 percent, according to the analyst. "It shows that Altice wants to grow but not at any price, which is a wise thing for Drahi to do," says Carlier.
Drahi got his start in the 1990s with a tiny cable network in a French village and now splits his time among Geneva, Paris, and Tel Aviv. Over the past two years he has expanded Altice in France, Portugal, and the Dominican Republic with a string of debt-fueled deals. In April 2014 he agreed to pay $19 billion for Vivendi's SFR, France's No. 2 mobile operator, and in December he paid $9 billion for Portugal's former national phone monopoly.
With further opportunities in Europe limited, he's targeting the U.S. after being rebuffed in efforts to buy Bouygues Telecom, France's third-largest wireless operator, according to the people familiar with the situation. Drahi declined to comment. "What Altice has done over the past few years is quite remarkable," says Yvan Desmedt, a partner at law firm Jones Day who has advised large companies in telecom deals. "But it's one thing to move into the U.S. market and a different one to succeed in such a competitive landscape."
The bottom line: In the U.S., Altice wants to use the same strategy it did in France: building a regional player into a national powerhouse.
Before it's here, it's on the Bloomberg Terminal.
LEARN MORE