The World Will Never Retire
Retirement savings shortfalls challenge workers, employers, and governments from Canada to China
By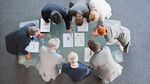 You can almost feel the shrug in French workers' responses to questions about retirement. About 60 percent say they have no retirement plan, and just 8 percent of those with a plan have it written down. They have lots of company in Poland and the Netherlands, where the percentages are similar. The minority of global workers who are serious retirement planners—people who not only have a plan in mind but also say they have a written plan—are in Brazil, at 23 percent, as well as in the U.S. and India, both at 21 percent.
While a retirement crisis looms in the U.S., the percentage of American workers saying they are habitual retirement savers tops the global average, according to a survey of retirement readiness by the Aegon Center for Longevity and Retirement and the Transamerica Center for Retirement Studies. The survey covered 14,400 workers and 1,600 fully retired people in 15 countries across Europe, the Americas, Asia, and Australia. In it, a global average of 39 percent say they are habitual savers, having checked a box that reads: "I always make sure that I am saving for retirement." For U.S. workers, it was 52 percent. Only China beat that, at 55 percent of those surveyed.
There's a gender gap among the globe's habitual savers. Forty-two percent of men make saving a habit; for women, it's 36 percent. Unsurprisingly, these savers are likely to be older, with 45 percent of the 55- to 64-year-old crowd being habitual savers. This group is far more likely than non-savers to have a backup plan in case of an unforeseen chronic illness or a layoff.

The country with the highest percentage of workers citing a working spouse as part of their backup plan for income was China (41 percent), followed by India (39 percent) and Turkey (36 percent). In the U.S., 59 percent cited tapping personal savings as part of their backup, with Canada close behind, at 58 percent. Twenty-six percent of U.S. workers cited the very retirement-unfriendly backup plan of taking early withdrawals from retirement accounts.
Habitual savers differ from peers in expecting that, on average, the government will provide only one-third of their retirement income. The rest is expected to come from personal savings and workplace retirement plans. India was way ahead of the pack in relying on personal savings and investments, at 47 percent. That contrasts with Spain, where workers expect savings to make up just 23 percent of retirement income and for the government to provide 63 percent. 
A striking aspect of the poll is the similar retirement sentiment among workers in major emerging countries and the U.S. (Russian workers weren't surveyed.) 
Workers in Brazil, China, and India are seeing retirement savings boosted by high interest rates. In Brazil, rates are as high as 13.25 percent, and they stand at 7.5 percent in India. Real (inflation-adjusted) wages have been rising fastest in those countries, the survey notes. In the U.S. and most industrialized countries, where rates are low and wage growth slow, stronger feelings of retirement readiness come from having a well-established system of employee retirement plans.  
Nevertheless, the percentage of workers in India, Brazil, China, and the U.S. that say they're "on course to achieve their retirement income" falls in a narrow band that ranges from 36 percent (India) to 33 percent in both the U.S. and China. 
While some people in those countries are feeling a little better about retirement, the survey didn't find that greater confidence necessarily leads to overall savings behavior improving. Some workers' sense of well-being may come more from seeing economic improvement than from taking additional action to prepare for retirement. Based on that disconnect, the survey says, its "findings suggest that people's retirement hopes and aspirations could yet be shattered." 
The report went on to suggest possible ways to improve the retirement picture. It noted that being automatically enrolled in an employer retirement plan that deducts 6 percent of annual salary appeals to 59 percent of workers who intend to save but aren't yet saving. (The norm for automatic enrollment is more like 3 percent of salary in the U.S.) Employers that offer employees such plans and that add features to increase those contribution rates automatically over time could make a "tremendous difference," the survey says.  
Governments also could increase incentives for long-term saving, says Catherine Collinson, president of  the Transamerica Center for Retirement Studies. That could include more generous tax breaks and the maintenance of existing ones. Updated employment laws that reflect the increased longevity of workers would also help.
The chances of such changes happening aren't clear. The need sure is.