The Definitive H&H Rick Santorum Scouting Report
Mark Halperin and John Heilemann analyze his candidacy, point by point.
By and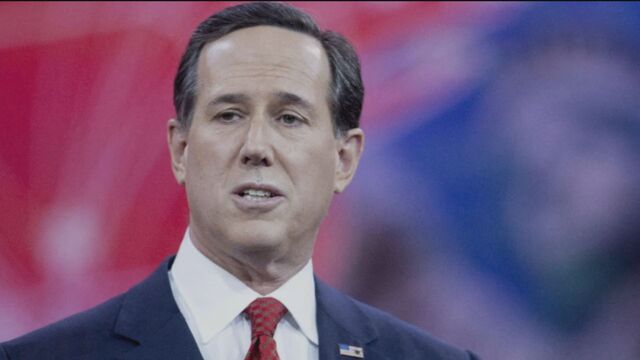 What he's got: Status as runner-up in the 2012 GOP nomination contest; the benefits of experience from having run for president before; proven vote-getting ability in Iowa, which he narrowly won last time; second-to-none social conservative bona fides; high name recognition among Republican voters; rhetorical potency (when he stays on message); nascent economic populist appeal, building on his 2014 book, Blue Collar Conservatives; compelling personal/family narrative, from his grandfather's immigrant story to that of his large, home-schooled family and his disabled daughter, Bella.
What he lacks: A convincing argument that he could enlarge the appeal of the Republican Party enough to win a general election; sufficient discipline to avoid being sucked into distracting and self-defeating social/cultural debates and theological digressions; a path to the nomination that doesn't involve a repeat victory in Iowa; ability to discuss substantive issues without lapsing into the mind-numbing procedural language of the Senate; polling strength sufficient to earn him a place in the party's debates, where he might shine.
Biggest question mark: Can he convince Republican voters that his 2012 success wasn't a fluke—and thus be taken seriously?
Message: "Restoring the American Dream for hardworking families."
Core constituencies: Christian conservatives, foreign policy hawks.
Signature issues: Abortion, gay marriage, "family values" writ large; Iran, ISIS, anti-jihadism writ large.
Fundraising mojo: Chronically underfunded in 2012, his survival hinged on super-PAC angels such as Foster Friess. Between Friess, who says he will be a backer again, and the candidate's Patriot Voices network, should be able to raise enough to play in Iowa. Has decent low-dollar donor potential.
Spouse and family: Wife, Karen, and their seven children were among Santorum's greatest assets four years ago—and likely will be again.
Perceived electability as GOP nominee: Cross-party establishment consensus is that Santorum as standard-bearer would guarantee a Hillary Clinton general-election landslide.
National-security credentials: Eight years on the Senate Armed Services Committee gives him a better résumé and more credibility than that of virtually any of his Republican rivals.
Television skills: On his good days, strong, articulate, and relatable, but his good days come too infrequently. On less good days, can be tedious, long-winded, and humorless.
Social media/online chops: With 229,000 Twitter followers, he trails declared candidates such as Senators Rand Paul, Marco Rubio, and Ted Cruz, but not by much. Majority of feed consists of self-promotional tweets about his speeches and appearances but also posts about personal family events—e.g., son Dan joining the U.S. Air Force, daughter Bella celebrating her 7th birthday. Also an avid Periscoper.
Media coverage: Rarely covered as a top-tier candidate, due both to his meager polling strength and a perception among journalists that he missed his moment in 2012 and will be a footnote in 2016.
Polling strength: Low single digits nationally, and, more problematically, in Iowa.
The Big Mo: No discernible mo at all.
Fire in the belly: Seems at once resigned and determined to replicate his Iowa performance from last time the same way this time around—picking up support one Pizza Ranch at a time. Knows from his 2012 experience that this is a marathon and not a sprint.
The hang test: The sweater vest is gone (for now), but still remains approachable and relatable on the hustings. Shows voters he respects their power in a way few other hopefuls do.
Challenges party orthodoxy: Supports a small hike in the federal minimum wage (50 cents a year for the next three years); opposes giving President Obama fast-track authority on TPP (because, he argues, Obama "has not proven be to reliable or trustworthy").
Best moment of 2016 cycle so far: Publication of Bella's Gift, his and Karen's memoir about raising their daughter, who suffers from a rare genetic disorder, Trisomy 18—which garnered positive press even from MSNBC.
Worst moment of 2016 cycle so far: News that Josh Duggar of 19 Kids and Counting fame—who campaigned for Santorum in 2012—allegedly molested five underage girls, including four of his sisters.
Best Bloomberg Politics moment: CPAC interview.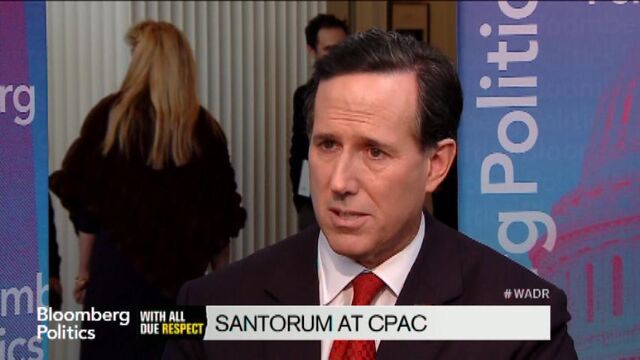 Picture he doesn't want you to see: The night of his landslide defeat in 2006 as he ran for re-election to the Senate from Pennsylvania.