politics
Standing With Rand at the Strand
At New York City's famous bookstore, the most literary Republican 2016 candidate greets his base.
By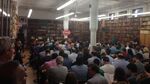 The jacket copy of Senator Rand Paul's new book, Taking a Stand: Moving Beyond Partisan Politics to Unite America, out Tuesday, says that "Rand Paul's Republican Party is for young and old, black and white, those with tattoos and those without. This is not your grandfather's GOP."
His appearance at the Strand bookstore in lower Manhattan Tuesday night appeared to attract that new GOP: young children and old retirees, some people who weren't white, and at least one guy with several bright tattoos up and down his arms. Dan Rossano, a 40-year-old office manager and independent voter, said he stopped by to see what Paul was about and was leaving more likely to vote for him. 
"The vibe I got is that he seems to be the most independent out of everyone, and if you can equally annoy Democrats and Republicans at the same time, you're probably a decent guy," Rossano said as he waited in the book-signing line. 
Though Paul canceled a scheduled question-and-answer session to leave for another event, he briefly addressed a large, standing-room-only crowd of people in the Strand's rare-books room to promote his new publication. At his side was his wife, Kelley, who briefly talked about her own book about the women in her family, released last month. The couple was introduced by Nancy Bass Wyden, the store's co-owner and the wife of Democratic Senator Ron Wyden of Oregon, Paul's Patriot Act-fighting friend on the left. (Paul ended the night by saying that there are "things that are much more important than party and I value the friendship that I have with Senator Wyden.")
Fresh off of his not-a-filibuster against the reauthorization of the bill last week, Paul talked about bipartisanship, about reaching across the aisle, and about why felt the need to take a stand against bill. "The president and members of my party who support the Patriot Act and say 'Just do this, just trust us, we're good people, we won't do anything wrong with this'—it isn't about the president," Paul said. "It isn't about members of my party who support this bill. It's about what may come in the future and what has come in the past." 

As he argued during an appearance on Fox & Friends (and a somewhat hostile interview on CBS's This Morning) that morning, he's fighting against the same indiscriminate use of spying that led to Asian-Americans being rounded up during World War II, black civil-rights activists being spied on in the 1960s, and Vietnam War protesters being harassed by the government. On CBS, Charlie Rose asked Paul if his 10-hour, 31-minute speech was "about selling books," but among the book buyers (entrance to the event was either a $15 Strand gift card or a $27 hardcover of Taking a Stand), the senator was preaching to the choir.
"I liked the message he was saying today, and I believed him," Rossano said. "That doesn't always happen for me." 
Ian, a 23-year-old law firm employee who declined to give his last name, said he was more enthusiastic about Ron Paul's 2012 run, but would probably support Rand Paul. "I studied philosophy in undergrad and I think authenticity is a sort of phenomena that you can feel," said Ian, who had on a Team Edward shirt (the National Security Agency leaker, not the vampire). "I think he is kinda authentic, but it doesn't drip off of him like his dad, and he could be one of those guys that just get elected and do whatever the f--- they want to do." 
Others were more all-in for Paul. "I watched him filibuster the Patriot Act, I'm a big supporter of that," said Garry Pelton, a 23-year-old hospital corpsman for the U.S. Navy. Pelton, a former Ron Paul supporter, was saying that Rand Paul came off "personable, well-spoken, well rehearsed," when a woman next to him jumped in. 
"He's an amazing speaker," said Carolyn Gans, 61, of the New York Board of Elections. "He's a very smart guy."
Like Pelton, Gans considered Paul's speech to be a filibuster (technically it wasn't) and said it reminded her of one of her favorite films.
"The whole filibuster thing, it was like Mr. Smith Goes to Washington, one of my favorite movies of all time, which I just saw again over the weekend, you know. And to me there's just a Jimmy Stewart quality about [him]," Gans said. "I think he's kind of turning Washington upside down, shaking it up a bit, and I think we really need that."
Before it's here, it's on the Bloomberg Terminal.
LEARN MORE