No Mercy for Profit-Shy as ISS Urges Japanese Executive Cull
Tom Redmond and Takako Taniguchi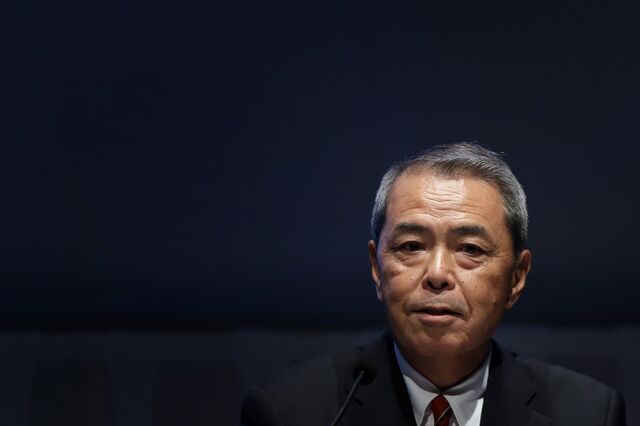 The heads of more than 500 Japanese companies have a new nemesis.
Institutional Shareholder Services Inc. is telling its 1,600 asset-manager clients to vote top executives out at firms that fail the proxy adviser's new profitability standard. While the managers will probably hold on to their posts, ISS's advice is set to reduce approval ratings at companies with many overseas investors. This brought change at Canon Inc. and others in the past.
ISS is clamping down on firms with low return on equity as Japan takes steps to make companies more capital-efficient, with a corporate-governance code starting next week. ISS says the policy isn't draconian, even as it makes no-vote recommendations at more than a quarter of the 2,100 firms it covers.
"This is our first year to use an ROE standard," Takeyuki Ishida, ISS's head of Japan research, said in a phone interview from Tokyo on May 20. "Companies now understand it after asking a lot of questions at first," he said. "We were worried that if we set the level too high it would disadvantage some industries, but at this stage we don't see any problems."
Japan is the only market where ISS has such a policy, according to Ishida, 46, who says it's suitable because the nation's companies need to make more profitable use of shareholders' funds. ISS recommends voting against the election of top executives at firms with an average ROE for the past five fiscal years of less than 5 percent, unless the company met the grade in the most recent year.
Top Executives
The proxy adviser also calls for investors to lodge dissenting votes if the board has no outside directors, or if a company's leaders failed to implement a proposal approved by shareholders. ISS defines top executives as the president, chairman or representative directors with decision-making power.
Some 658 of the 1,875 companies in the Topix index, or 35 percent, had five-year average ROE that missed the mark as of their latest filing, according to data compiled by Bloomberg. They include Sony Corp., Kirin Holdings Co. and Sharp Corp.
While Kirin Chairman Senji Miyake was reappointed to the brewer's board at this year's annual meeting in March, his approval rating dropped to 78 percent, compared with 94 percent the previous year.
In Sony's case, ISS will probably be recommending voting no even as the electronics maker's shares surge 55 percent this year through yesterday amid an upturn in its fortunes.
Ishida, who declined to comment on specific companies, says ISS's policy is mechanical and can't take improvements in the current year into account. He's reluctant to discuss how influential ISS is, beyond citing the number of institutional clients. Not all use the recommendations the same way, he says.
Foreign Shareholders
"It depends on the type of investor," Ishida said. "Index funds, for example, are highly likely to follow ISS's lead, whereas asset managers that pick a small number of specific stocks tend to have their own view and use ISS as a second opinion."
JPMorgan Chase & Co. Chief Executive Officer Jamie Dimon chided shareholders as "lazy" for casting votes at annual meetings based on the advice of proxy advisers. Placing votes based on ISS or Glass Lewis & Co. is irresponsible and a sign of not being a good investor, he said.
Holds Sway
Masahiro Nakagawa, deputy general manager of corporate consulting services at Mitsubishi UFJ Trust & Banking Corp., says ISS holds sway at companies with more foreign shareholders.
"If a president's approval rating falls a lot and is, say, 20 percent lower than peers at other companies, it's not good for them," he said. "Companies will want to clear this 5 percent level, and that could help boost ROE in Japan. That said, it may give businesses the impression that if they get above 5 percent, it's enough."
The Ito review, a government-backed attempt to diagnose ills in Japan's financial market and prescribe remedies, said last year that companies should target ROE of at least 8 percent.
Ishida doesn't rule out a higher level later.
"I can't say," he said. "We'll update the policy every year. We might revise it in the future."
Before it's here, it's on the Bloomberg Terminal.
LEARN MORE