Hillary Clinton Is Running for President by Praising the President
Make no mistake: In South Carolina, Obama and his policies are on Hillary Clinton's ballot.
By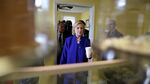 Just months ago, in the run-up to the 2014 midterm elections, it was hard to find a Democratic candidate willing to embrace the president on the campaign trail. But on Thursday in South Carolina, where Hillary Clinton lost big to Barack Obama in the 2008 primary, she verbally threw her arms around him and kept them there. Voters who came out to see her said they were long past the tensions of that election, and the hard feelings that followed Bill Clinton's comparison of Obama's win there to the Rev. Jesse Jackson's success in the state in 1988.
Clinton was taking no chances. In a speech to about 200 Democratic women in Columbia, she dusted off her southern accent and repeatedly mentioned her close working relationship with Obama, even repeatedly comparing him to her husband: "I will say there does seem to be pattern," she said, "of Democratic presidents, and I'm thinking about two in particular, who seem to inherit a mess of problems—have you noticed that?—and they have to dig us out of the ditches…and of course I'm talking about Bill Clinton and Barack Obama."
She mentioned the '08 primary herself: "Some of you might remember we had a pretty vigorous campaign here in '08," she said, and the crowd murmured, then broke into laughter and applause when she continued, "He won, I lost, then I went to work to make sure he won" in November.
When Obama asked her to become his secretary of state, she twice turned him down, she told the crowd, "and I say to my husband, 'Can you believe this guy? I've told him no twice" but he won't accept it.
"And Bill said, 'Well as I remember, I asked you to marry me twice.'"
She finally relented, she said, after realizing that if the roles had been reversed, "I would have wanted him to say yes." And, she added, "He asked me and I said yes for the same reason: We love our country."
She also took a humorous shot at the way Obama, her husband and others have aged in office: "All our presidents come into office looking so vigorous. Think about what they looked like on Inauguration Day, and then we watch them grow grayer and grayer, and by the time they leave, they are as white as the building they live in. Now, let me tell you, I am aware I may not be the youngest candidate in this race, but I have one big advantage: I've been coloring my hair for years, so you are not going to see me turn white in the White House."
As president, she said she'd emphasize issues that boost the middle class, including fair pay for women, increasing wages for the lowest-paid, and transparency about pay that will help women demand their due: "Transparency when it comes to pay is our friend."
Tameka Devine, who serves on the Columbia City Council, worked for Obama's campaign in 2008 but is "so excited" about Clinton this time around: "Where she stands—understanding working women and working moms–far outweighs issues we had 8 years ago."
"I've always loved her family values," said Kisha Dixon, a small-business owner here.
So, she supported her first run? "To an extent," she said, laughing. "She was not my first choice" then, but now "the fact that I got to see Hillary Clinton was the highlight of my day."