Hillary Clinton Is Running for President by Praising the President
Make no mistake: In South Carolina, Obama and his policies are on Hillary Clinton's ballot.
By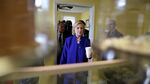 Just months ago, in the run-up to the 2014 midterm elections, it was hard to find a Democratic candidate willing to embrace the president on the campaign trail. But on Thursday in South Carolina, where Hillary Clinton lost big to Barack Obama in the 2008 primary, she verbally threw her arms around him and kept them there. Voters who came out to see her said they were long past the tensions of that election, and the hard feelings that followed Bill Clinton's comparison of Obama's win there to the Rev. Jesse Jackson's success in the state in 1988.