Photographer: Tim Schutsky/Bloomberg Business
Style Guide
Five Great Swim Trunks for Men That You Can Also Wear as Shorts
Shorts or swimsuit? No one will be able to tell with these five picks from such brands as Ralph Lauren and Onia
By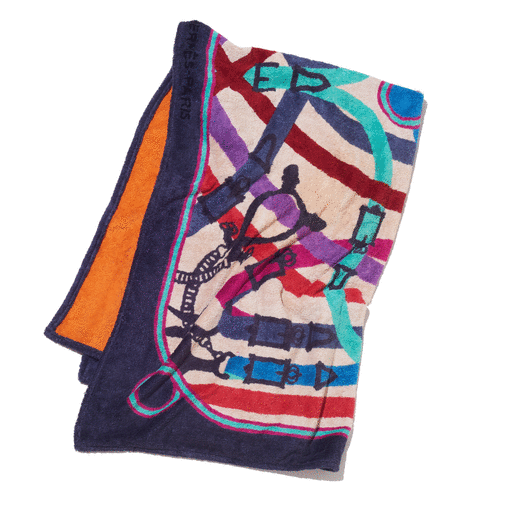 The enjoyment of summertime pursuits is dependent on multiple things coming together at once; the right location, weather, and company can all make or break a weekend spent under the sun. (Allegra and sunscreen help, too.) 
But sartorially speaking, probably the greatest factor that will assure your memories are happy ones is your choice of swimwear. Get it wrong, and you're miserable and uncomfortable—both physically and mentally. So let's get it right. Here are the rules, men:
The hem of your suit should always hit several inches above your knee, unless you are actually surfing.
Your suit should hug your waist, not squeeze it. If you end the day with creases in your skin from where it's been pinching you, it's too tight. (Muffins are for brunch, not the beach.)
Elastic waists are OK, just see rule No. 2.
Baggy is bad. A tailored appearance will flatter your legs, whereas a floppy mess of fabric will make you look like a dad from before #dadbod was cool.
You'll be happiest if you choose a suit that's appropriate no matter what your plans are and where the day will take you. When that al fresco picnic with friends turns into sunset drinks on a dock, turns into a friend of a friend's pool party—you'll be glad you don't have to go home to change. So something subtle and neat is best.
Here are five options to get you started, and hopefully to inspire your annual swimwear upgrade.  
 For the Company Pool Party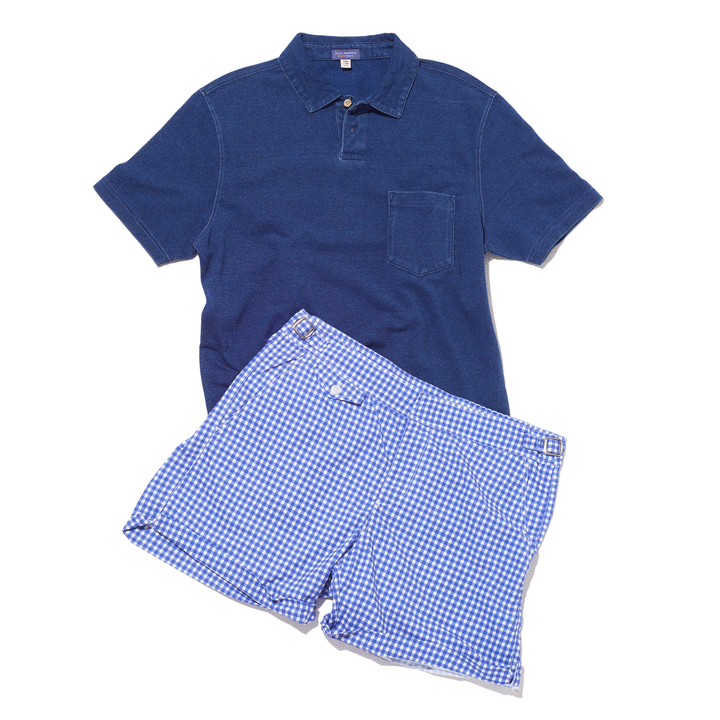 Because you're less likely to be that guy who makes a cannonball entrance into the corporate splash zone if you're wearing something civilized, such as this pair of gingham swim trunks by Ralph Lauren. And the bright orange, suede driving shoes by Tod's also say, "I like to party, but I keep it classy." (Swim trunks, $395, ralphlauren.com; driving shoes, $445, tods.com)
For the Club's Clam Bake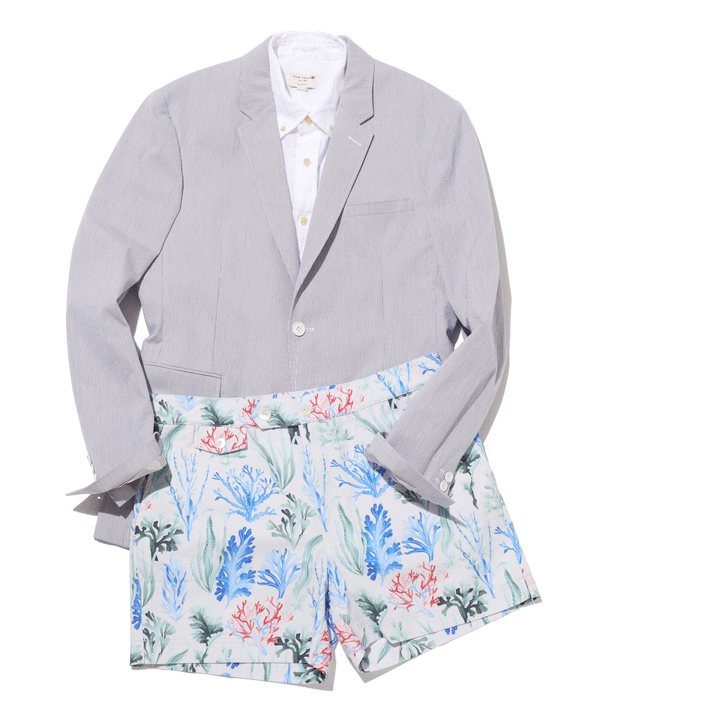 You're not breaking any dress codes by taking the top half of this lightweight, almost seersucker cotton suit by Burberry London and pairing the unstructured blazer with this well-cut, kitschy, seaweed-print swim shorts by Dunhill. In fact, you're elevating the rules. (Blazer, $995, burberry.com; swim shorts, $340, dunhill.com)
For the Day Cruise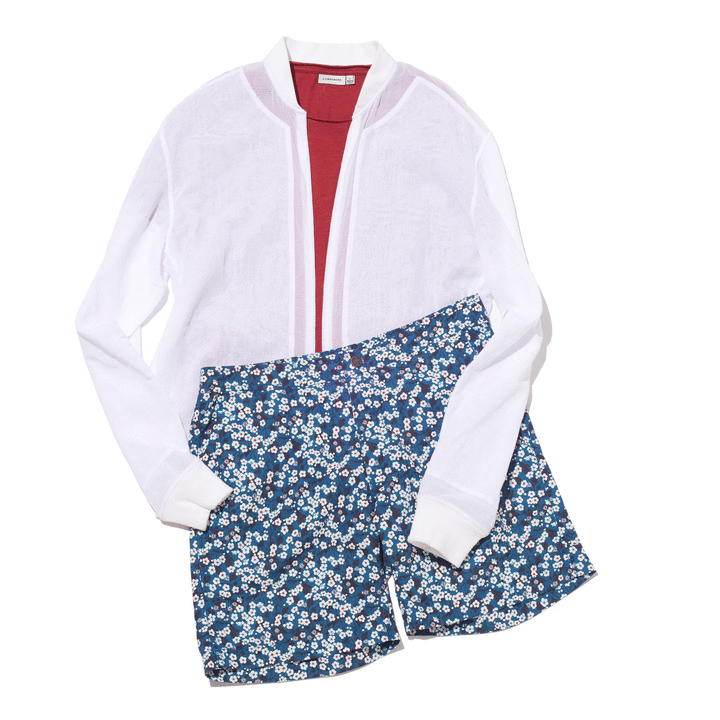 For drinking. Perhaps during the day, as summer Fridays call for. Because anyone who can conquer copious amount of rum-in-the-sun can brave this straight-leg, Liberty-print swim trunk by Onia. Just add a pair of bold shades, such as this pair by Ross & Brown—and don't forget to take two Advil before bed. (Swim trunks, $195, onia.com; sunglasses, $135, rossandbrown.com)
For the Beach House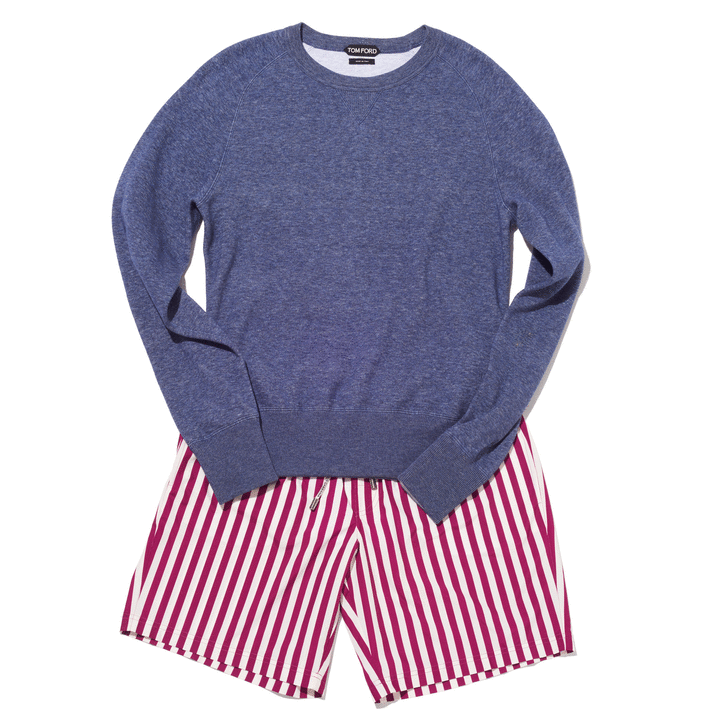 It's time to hit the relaxation station with whatever dog-eared book of the moment you're reading. So get comfortable. This double-face crewneck sweatshirt by Tom Ford will do the trick, even after your sunset dip in the bay. As will these flexible-waistband striped swim trunks by Dolce & Gabbana. (Sweatshirt, $990, tomford.com; swim trunks, $475, dolcegabbana.com)
For the Backyard Barbecue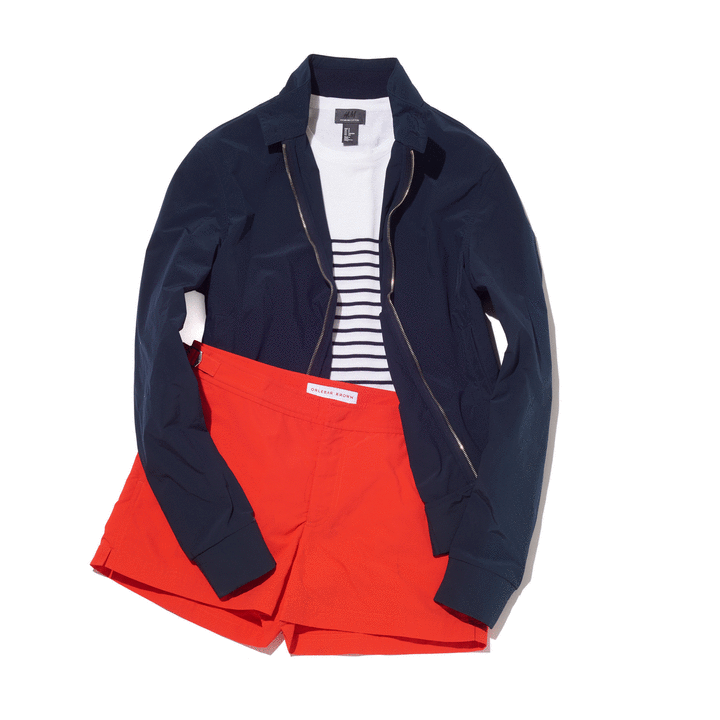 Everyone knows that the grill master (that's you) is a true patriot. Thus you've been known to wear some red-white-and-blue in your time, as with this knit by H&M and the "rescue" red Orlebar Brown Setter shorter-length swim trunks. Wear these, and you'll be ready to heat things up. (Sweater, $29.95, hm.com; swim trunks, $230, orlebarbrown.com)
Nic Screws is the style director for Bloomberg. Follow her on Twitter and Instagram, or e-mail her any of your fashion concerns or questions at nscrews@bloomberg.net. 
Before it's here, it's on the Bloomberg Terminal.
LEARN MORE