Ex-Clinton Aides' E-Mails Given to Panel Probing Benghazi
Billy House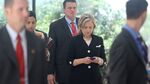 The U.S. State Department gave a House panel investigating the terrorist attack in Benghazi, Libya, about 1,200 pages of e-mail sent and received by top aides to then-secretary of state Hillary Clinton.
The e-mails were delivered Friday to the Select Committee on Benghazi, State Department spokesman Alec Gerlach said Wednesday. The documents are separate from 30,000 work-related messages that Clinton, now a Democratic candidate for president in 2016, handed to the department from the private e-mail server she used while she was the top U.S. diplomat.
Clinton's use of a private e-mail address and home server in the job has become a focus of the House committee's probe of the Obama administration's handling of the attack in Libya. Ambassador Christopher Stevens and three other Americans were killed in the Sept. 11, 2012, assault on a U.S. diplomatic compound in Benghazi and a nearby Central Intelligence Agency outpost.
The 1,200 emails delivered on Friday, however, were in response to a March 4 subpoena from the panel requesting all the State Department e-mails and documents related to Benghazi of 10 former Clinton aides at the State Department. They include: Cheryl Mills, Jake Sullivan, Huma Abedin, and Philippe Reines as well as Susan Rice, Patrick Kennedy, Jeffrey Feltman, William Burns, Thomas Nides and Wendy Sherman.
The committee has said it intends to interview at least some of the former aides, including Mills, Sullivan, Abedin, Rice and Kennedy.
'Partial Compliance'
A committee spokesman, Jamal Ware, said Wednesday the 1,200 e-mails turned over on Friday were only in "partial compliance" of what had been requested of the State Department, and that they included only emails from "one of Clinton's top 10 aides."
The 1,200 pages of e-mails are each in some way tied to Mills, who served as Clinton's chief of staff at the State Department. They were either sent by Mills, or received by her, sometimes with other top aides copied.
Included are duplicates of some of the 296 Benghazi-related e-mails involving Clinton that were turned over in February to the committee by the department.
More Documents
There will be more documents produced in response to the committee's subpoena, Gerlach said in responding to the department's complaints of partial compliance.
The March subpoena was a follow-up to a request last year to the State Department for e-mails between Clinton and her senior staff. The November request was prompted by "a lack of e-mail traffic found among these top staffers" provided to previous House committees looking into the Benghazi attack, the committee said in a report last month.
In February, the State Department gave the House panel 296 e-mails that it described as all of Clinton's correspondence on Benghazi. Each came from the former secretary's private e-mail account, and all were publicly posted last week on the department's website.
A federal judge ruled Wednesday that the U.S. must begin making public the 30,000 e-mails belonging to Clinton on a monthly basis starting June 30. U.S. District Judge Rudolph Contreras ordered that the e-mails be produced at 30-day intervals, with the last batch due Jan. 29, two weeks after a deadline proposed by the State Department.
Congressional Republicans have been trying for more than two years to show that Clinton failed to bolster security before the Benghazi attack and should share blame for the administration's initial, erroneous account of what happened. The panel's chairman, Republican Representative Trey Gowdy of South Carolina, has said he plans to issue a final report next year, just months before the presidential election.
Democrats have accused Republicans of dragging out the investigations for political reasons.