De Blasio Says Cuomo Must Lead on New York City Rent Regulations
Freeman Klopott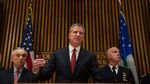 Mayor Bill de Blasio took a swipe at New York Governor Andrew Cuomo, saying his friend of 20 years needs to step up and lead to ensure rent regulations are extended for 2 million New York City residents.
The mayor spoke after meeting with the governor for more than an hour in Albany Wednesday. De Blasio was in the capital to push for changes to rent regulations and a property tax abatement program ahead of their June 15 expiration so they better fit his plan to preserve or create 200,000 affordable housing units by 2025.
"We need the governor's action," de Blasio said at a news briefing. "We need leadership and we know the governor has been able in the past to create real change here in Albany and get things done. This is a moment when we need that leadership."
Cuomo has said he's willing to stand aside while lawmakers and real estate lobbyists seek a compromise. He has said he would accept a simple extension of both programs with no changes if they can't reach a compromise. He's been contending with corruption in the legislature that's toppled the top two lawmakers this year and helping his live-in girlfriend cope with breast cancer.
De Blasio said Wednesday he wants to end rules that allow landlords to raise rents to market rates once they exceed $2,500 a month.
Tax Break
The tax break, which costs the city $1 billion a year in revenue, isn't worth keeping unless developers increase the share of affordable units in new apartment buildings to 30 percent, up from the current 20 percent, de Blasio said.
"This is a chance for Albany to take a step in the right direction, make some common-sense moves that will actually help people's lives and restore some faith in what happens here," the mayor said.
The call for Cuomo to become more involved in the issue is the latest challenge in a friendship forged in their years together at the U.S. Housing and Urban Development Department under President Bill Clinton. While they're both Democrats, de Blasio describes himself as a progressive.
Rich Azzopardi, a Cuomo spokesman, didn't immediately respond to a request for comment.