Carly Fiorina Shadows Hillary Clinton in South Carolina
Now opening for the Democratic front-runner: one of her fiercest critics in the Republican field.
By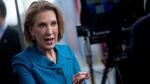 Like every other Republican presidential candidate, former Hewlett-Packard CEO Carly Fiorina would like nothing more than to see herself pitted in a one-on-one battle against Hillary Clinton. 
Fiorina pressed her case Wednesday that she was well positioned to take on Democratic frontrunner by crashing the site of one of Clinton's South Carolina speaking engagements.
"We now know that her family foundation has had to refile five years' worth of returns because it failed to disclose donations from foreign governments," Fiorina said outside the hotel where Clinton was set to address the South Carolina House Democratic Women's Caucus and the South Carolina Democratic Women's Council, according to Politico. "We know that she only had one e-mail in her server, that she put a server in her basement, that it was convenient not to rely on federal government e-mails. We know that Benghazi was a terrorist attack despite the fact that she told us it was a protest gone bad." 
Fiorina also hit Clinton on one of the core issues of her campaign: advocating for women.
"On the issue of equal pay for equal work, this is politicians trying to use an issue to drive forward their particular agenda regardless of the facts or the causes," Fiorina told reporters. 
During the brief news conference, which Fiorina's campaign contrasted with what they portrayed as Clinton's reluctance to answer questions from reporters, Fiorina argued that she was not stalking her political rival. 
"I planned this trip many, many weeks ago, so perhaps she's following me. I have never been following Mrs. Clinton," Fiorina said.
On her Facebook page, Fiorina laid out the rationale for Wednesday's news conference before it began. 
"While Hillary Clinton continues to hide from tough questions, I look forward to answering more of them in Columbia, South Carolina today. I'm not afraid of the tough questions and I've answered hundreds on the record since announcing our campaign 23 days ago," Fiorina said in a status update. "Hillary lacks transparency. It's another reason why she must not be President of the United States."
Just before she spoke in Columbia, Fiorina also unveiled a new website devoted to bashing—who else—Hillary Clinton. Titled Ready to Beat Hillary, the name is, of course, a simple derivation from the onetime super PAC Ready for Hillary and features videos and articles showcasing Fiorina's critiques of the former secretary of state. 
Immediately following the press conference, the pro-Fiorina super-PAC Carly For America sent out another press release, compiling what it said were questions for Clinton from South Carolinians. 
"Mrs. Clinton, The Clinton Foundation has been under fire in the media for accepting donations from foreign governments who were also lobbying the State Dept. while you were Secretary of State," read one question submitted by a person named Erin M. of Monks Corner. "What can you say to convince us it wasn't a 'pay to play?'"
CORRECTION: An earlier version of this article incorrectly stated that the press release sent out by Carly For America had come from the Fiorina campaign.