business
British Airways Boss Walsh Warns of Dangers of U.K. Quitting EU
Kari Lundgren and Harris Braude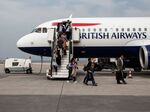 The chief executive of British Airways owner IAG SA said he "strongly disagrees" with any move by the U.K. to quit the European Union, making him one of the highest-profile business leaders to warn about the dangers of a breakaway.
The comments from Willie Walsh came in an interview on Wednesday, the same day that Britain's ruling Conservative Party outlined plans to fast-track legislation for a referendum on continued membership of the 28-country trading bloc.
While Walsh said he saw a need to reform the EU to make it less of a burden to companies, he added: "I strongly disagree with leaving it and I think the best way to influence the EU is to influence it from within."
He also said "uncertainty around an EU referendum will weigh on business."
Mike Rake, president of the Confederation of British Industry, has urged company leaders to "turn up the volume" by promoting the economic benefits of being part of the EU. A similar campaign in last year's referendum on Scottish independence may have helped to keep Scotland within the U.K.
The EEF, which represents British manufacturers, repeated its appeal on Wednesday that Prime Minister David Cameron should accelerate the EU vote "so that it does not become a drag on industry and investment." While Cameron has said the referendum will be held before the end of 2017, bodies such as the EEF have urged him to bring it forward to next year.
Walsh was speaking after IAG won Irish government support for its 1.4 billion-euro ($1.52 billion) offer for Aer Lingus Group Plc.
Before it's here, it's on the Bloomberg Terminal.
LEARN MORE