Drink
Bourbon Bait and Switch: What's Really in Your Glass?
Every bourbon brand wants you to believe it's distilled in its own quaint, rustic distillery. The truth sometimes isn't so romantic
By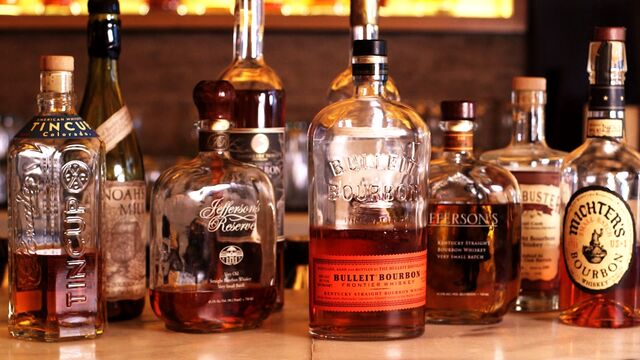 Bourbon, America's truly homegrown spirit, is in the middle of a renaissance. Bourbon makers' revenue is up more than 40 percent since 2009, and the number of brands has exploded.
Lots of trends have been credited for bourbon's resurgence, from the popular TV series Mad Men (they drank a lot on that show), to the slowing popularity of vodka, to an increased interest in locally produced artisanal food and drink.
More than any other spirit, bourbon is associated with being folksy and down-to-earth—and brands are going to great lengths to play up that image. 
Take Bulleit. Despite saying on the label that it's "distilled by the Bulleit Distilling Company in Lawrenceburg, Kentucky," there is in fact, no such thing.
Founded in 1987 using an "old family recipe," Bulleit was bought in 2011 by Diageo, the world's largest spirits conglomerate. For years it was distilled in Lawrenceburg, but at the the Four Roses Distillery, which is owned by Japanese brewing company Kirin. Four Roses decided not to renew the contract to make Bulleit in March 2014, but we'll still be buying Bulleit made at the distillery for years to come because of the aging process.
Bulleit says the distillery followed the original recipe for its batches, but other brands aren't so picky. Jim Beam's Basil Hayden bourbon is a "superpremium" bourbon that sells for around $50, but it's really just an older, lower-proof Old Grand-Dad Bottled in Bond, which sells for half as much. The vaunted Pappy Van Winkle 15-year-old? Surprisingly similar to Weller's 12-year-old bourbon, as it's made from the same grain recipe in the same distillery.
In fact, while 200 Kentucky bourbons are for sale, all of which have to comply with the minimum recipe requirement dictated by law, only 14 distilleries are in the state.
Before it's here, it's on the Bloomberg Terminal.
LEARN MORE