Bobby Jindal Says Rand Paul is 'Unsuited to Be Commander-in-Chief'
His comments came after Paul blamed Republican "hawks" for the rise of the Islamic State.
By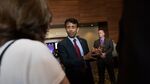 Louisiana Governor Bobby Jindal said Wednesday that Kentucky Senator Rand Paul, a likely rival for the 2016 Republican presidential nomination, is "unsuited to be commander-in-chief."
Jindal's comments came after Paul earlier Wednesday blamed Republican "hawks" for the rise of the Islamic State.
"This is a perfect example of why Senator Paul is unsuited to be Commander-in-Chief," Jindal said in a statement from his governmental office. "We have men and women in the military who are in the field trying to fight ISIS right now, and Senator Paul is taking the weakest, most liberal Democrat position."
"We should all be clear that evil and Radical Islam are at fault for the rise of ISIS, and people like President Obama and Hillary Clinton exacerbate it," he said. "It has become impossible to imagine a President Paul defeating radical Islam and it's time for the rest of us to say it."
The governor, who is expected to enter the presidential race in June, recently said he was "sympathetic" to Paul's fight to curtail National Security Agency surveillance activities. He later added in a statement: "Sometimes the smartest course is in the middle and [avoiding] extremes, this is one of those instances. People who argue that the Patriot Act is all bad are being dangerously naïve about the nature of the threats we face here at home. And people who argue that the government should be allowed to spy on American citizens at will are being dangerously naïve about the dangers of such."
Paul spokesman Doug Stafford shot back Wednesday afternoon.
"It's ironic [Governor] Jindal would level such a charge when he flip-flops on crucial issues like common core and national security, and he has cratered his own state's economy and budget," Stafford said in an e-mailed statement, pointing to Jindal's NSA views. "As we have seen for the past few weeks, Senator Paul is the only Republican running it seems who is willing to learn from our mistakes in the Middle East in order to keep us safer and stronger. The American people are looking for a candidate who can express a coherent viewpoint, something Gov. Jindal and many other candidates have been unable to do thus far."