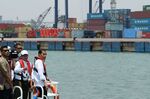 The scene in Semarang on Indonesia's Java island looks like it belongs to the previous century, if not the one before that. On a humid March day, trucks laden with goods bump through pools of seawater on roads to the sinking Dutch-era port. Shirtless men heave sacks of rice off wooden schooners as a lighthouse from 1884 towers above. At the container facility next door, by contrast, there are signs of modernity, Bloomberg Markets magazine reports in its June issue. Laborers are expanding the storage yard and lengthening the dock to accommodate three ships at a time, up from one. Pumps keep the seawater at bay.
For Sutikno Khusumo, the confluence of old and new symbolizes what's wrong with Indonesia's port system—and shows why he's hopeful that President Joko Widodo will fix it. Sutikno's father, Harto, started a shipping company with one leased boat in 1987. Today, Pelayaran Tempuran Emas is the nation's biggest container shipper, with 22 vessels. But the fleet, which navigates the 17,000 islands of the world's largest archipelago, can spend as much time waiting as it does sailing. "If there are delays, it's like throwing all your money in the sea," Sutikno says.
Widodo, who took office in October and is universally known as Jokowi, is investing $6 billion in the seafaring nation's ports. It's a small start. He estimates it will take $450 billion to fix his country's infrastructure—outmoded dams, airports, and rail lines. The tangled logistics in the world's fourth-most-populous nation can cause absurd anomalies. It's cheaper to import oranges from China to Jakarta than to transport the fruit domestically from Borneo, a quarter of the distance. In Semarang, it can take 10 days to move materials through the container port, forcing manufacturers to hold bloated inventories. "There's no reliability, no regular frequency, so you cannot do 'just in time,'" says Richard Lino, CEO of state port company Pelabuhan Indonesia II. He sees progress under Jokowi: "It's completely different because we have 100 percent support from the top."
 

Jokowi, who turns 54 on June 21, plans to link industrial centers in Jakarta to a new port in the capital by building a road and raising canal bridges to accommodate barges. In January, the government broke ground on a new deep-sea port in Medan on Sumatra. Jokowi wants to start constructing four more ports in October and expects to have finished an offshore project begun earlier at Kalibaru in Jakarta by then. It's all part of his commitment to drive domestic trade and increase exports of everything from palm oil to cars. "When we have good infrastructure, there's connectivity from city to city, from province to province, from island to island," Jokowi said in a February interview with Bloomberg in his office, where he displays a bust of Indian independence leader Mahatma Gandhi. "There is connectivity to ensure that our economy will grow fast."                                                                                      
Jokowi has reason to act quickly. Gross domestic product in Southeast Asia's biggest economy grew 4.7 percent in the first quarter of 2015, the weakest since the financial crisis. He wants to lift that to 7 percent within five years, in part by cutting logistics costs that account for almost a quarter of the $811 billion economy.
To pay for his program, Jokowi had to first tackle the politically perilous topic of fuel subsidies. For decades, the government had subsidized gasoline and diesel—even as the former OPEC crude producer became a net oil importer. That made fuel as cheap as 50 cents per liter, a popular subsidy in a country where GDP per capita is about $3,500 a year. In 2014, the subsidies cost the government about $20 billion, or 14 percent of its budget.                                                              
On Jan. 1,  Jokowi scrapped gasoline subsidies completely and left a small discount on diesel. He got a break that eased a brewing backlash when global oil prices plunged by half in late 2014. Jokowi's moves freed about $18 billion in the 2015 budget. The president wants to help fund his domestic agenda by expanding the number of Indonesians who pay taxes to 20 million from 4 million. In the interview, he called inequality "dangerous," saying he'd work to lift millions out of poverty. For businesses, he's opened a center to speed permits. Standard and Poor's in May raised its outlook on Indonesia's credit rating to positive from stable, saying the country could reach investment grade level in the next year if the government delivers its spending targets. 
Shipper Sutikno backs the president's efforts. He's spent 20 years navigating maritime challenges and today runs Temas Lestari, the holding company for Pelayaran Tempuran Emas. He's been stymied by a shortage of berths to accommodate the 75,000-ton vessels he needs to ship cement to Pontianak on jungle-covered Borneo. With new ports coming, Sutikno will spend $100 million to almost double the fleet. "Before Jokowi, oh my goodness, I had so many headaches," he says.
Signs of a nascent boom abound. In Pontianak, along a winding equatorial river, five bright new cranes boost the volume the inland port can handle. To the north, a planned deep-sea port would meet Su­tikno's needs. In eastern Indonesia, port chief Lino wants to build a deep-sea hub at Sorong on New Guinea and improve 35 small docks to feed into the $500 million development. Today, ships from northern Australia sail from Brisbane, up to South Korea or China before heading to Jakarta, Lino says. They could stop en route at the Sorong terminal, cutting the month-long trip for goods to Jakarta to one week.
 

Still, it can take years to make headway on infrastructure. In January, Jokowi attended the groundbreaking for the $700 million new Medan port. It had been stalled for eight years over a land dispute, and Jokowi got the state plantation company to hand some property over. Taming other obstacles will be difficult. Buying land, improving the availability of financing, reining in corruption, and overhauling regulations are challenges, says Juniman, an economist at Bank Interna­sional Indonesia who goes by a single name. The previous government promised to do those things, yet there was no improvement, he says.
Investors sense change is coming. Shares of Pelayaran Tempuran Emas soared sixfold from Jokowi's July 9 election to May 25. Container shipper PT Samudera Indonesia plans to take advantage of this investor interest with an initial public offering for its terminal unit, which will build at least six ports in the next two years. The Jakarta Composite Index may gain as much as 15 percent in 2015, the Jakarta arm of U.K. asset manager Schroders says. Shippers bet Jokowi's port emphasis will mean lower costs and larger volumes—along with rising shares. Workmen near Sutikno's Jakarta office prepare concrete and steel slabs next door to the capital's main Tanjung Priok Port for an offshore dock bigger than 150 soccer fields. "I have no doubt about investment on the ports side," Sutikno says. "We feel it."