Taco Bell Cutting Artificial Flavors to Prove 'Less Is Mas'
Craig Giammona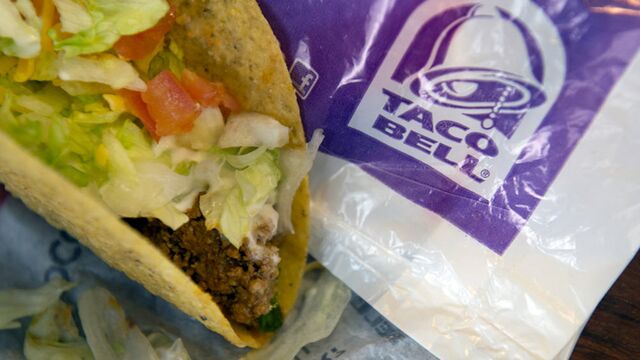 Taco Bell, which won over younger customers with unorthodox creations like Doritos-shelled tacos and fried cinnamon-bun balls, is now trying to appeal to millennials in a different way: cutting unnatural ingredients.
Taco Bell will remove artificial colors and flavors, high-fructose corn syrup and trans fats from 95 percent of its menu by the end of the year, Brian Niccol, the chain's chief executive officer, said in an interview. The upgrade won't result in higher prices.
"I want people to know that when they choose a chalupa, they can feel great about choosing that chalupa because it's affordable, it's craveable and we put the highest-quality food out there for them to enjoy," Niccol said. "People just assume that in order to do this, things have to become more expensive. That's a myth."
Taco Bell, owned by Yum! Brands Inc., also is trying to eliminate artificial preservatives and other additives from its menu, and will do that "where possible" by the end of 2017, Niccol said. The changes taking place this year won't affect beverages or co-branded products, such as the Doritos Loco Tacos.
Taco Bell is joining fast-food rivals in trying to win over millennials by improving its food quality. McDonald's Corp. said in March that it would stop serving chicken raised with some antibiotics at U.S. restaurants within the next two years. Dunkin' Donuts has gotten into the act too, saying it will serve only cage-free eggs.
Panera Bread
Chipotle Mexican Grill Inc. and Panera Bread Co., two fast-casual chains that built their brands on high-quality ingredients, are trying to stay ahead of their fast-food competitors. Panera said earlier this month it has purged 85 percent of its menu of artificial additives and has a goal of serving "clean food" by end of 2016.
That announcement came shortly after Chipotle said it had eliminated genetically modified organisms from all of its ingredients by stripping them from two holdouts: tortillas and cooking oil. The company also debuted a new marketing campaign that touts its use of simple, unprocessed ingredients. Chipotle took what some considered a veiled shot at Taco Bell, saying that there are "85 ingredients in a single fast-food burrito served by one of our competitors."
Pizza Hut, another brand owned by Yum, said Tuesday it would remove artificial colors and flavors from "nationally available" pizzas by the end of July. Yum didn't immediately respond to a request for comment on potential changes to its KFC chain's menu.
'Live Mas'
Taco Bell has about 6,200 restaurants worldwide, with 6,000 in the U.S. The chain's same-store sales grew 3 percent in 2014, boosted by the introduction of breakfast at its U.S. locations and a mobile app that lets diners customize their food, order ahead and pay on their phones.
The company has pushed its new menu items under the slogan "Live Mas," which it says appeals to adventure-seeking millennials. Now, the chain is testing the idea that "Less Is Mas" when it comes to artificial additives.
Niccol said he didn't know if Chipotle was talking about Taco Bell when it mentioned the fast-food burrito. But he emphasized that Taco Bell's food, which is cheaper than the premium burritos served at Chipotle, would remain "accessible" even as the chain moves toward simpler menu items.
"Some of our competitors are maybe a one-trick pony," he said. "We never want to become food that's just for a few, it has to be for everybody."