Oil Drops to One-Month Low as Dollar Link Strengthens
Mark Shenk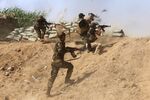 Oil tumbled to a one-month low in London as crude's correlation with the dollar became the most pronounced since 2012.
The stronger dollar will add to pressure on crude, according to Morgan Stanley. A rising greenback curbs the appeal of raw materials priced in the U.S. currency.
Oil's recovery from a six-year low has stalled amid speculation rising prices will encourage output from shale formations, while U.S. supply remains near a record. The Organization of Petroleum Exporting Countries is seen sticking with its strategy of favoring market share over supporting prices when it meets June 5.
"We're looking at real dollar strength with it rising to the highest since 2007 against the yen," John Kilduff, a partner at Again Capital LLC, a New York-based hedge fund that focuses on energy, said by phone. "The inverse correlation between oil and the dollar is kicking in."
Brent oil for July settlement dropped $1.80, or 2.7 percent, to end the session at $63.72 a barrel on the London-based ICE Futures Europe exchange. It was the lowest close since April 22. Total volume was 31 percent below the 100-day average at 2:51 p.m. in New York.
West Texas Intermediate crude for July delivery fell $1.69, or 2.8 percent, to settle at $58.03 a barrel on the New York Mercantile Exchange. There was no floor-trading session Monday because of the Memorial Day holiday and transactions will be booked Tuesday for settlement purposes. The U.S. benchmark grade closed at a $5.69 discount to Brent.
'Prime Factor'
The 14-day correlation between the U.S. Dollar Index and Brent reached -0.7 Tuesday, the strongest since December 2012. A negative correlation of -1 means oil and dollar move in opposite directions.
"The dollar is the prime factor we're looking at today," Bill O'Grady, chief market strategist at Confluence Investment Management in St. Louis, which oversees $3.4 billion, said by phone. "I see us stabilizing in a $45-to-$55 trading range, with the occasional move into a broader $40-to-$60 range. We should grind lower until we get there."
U.S. Economy
The dollar rose to an almost eight-year high against the yen as U.S. data from housing to manufacturing beat estimates, boosting the case for higher interest rates.
Saudi Arabia led OPEC's November decision to maintain its output quota at 30 million barrels a day. It pumped 31.3 million barrels a day in April, exceeding that target for an 11th consecutive month, a Bloomberg survey showed. OPEC will probably maintain its production target at a June 5 meeting, according to a separate Bloomberg survey.
Iraq, OPEC's biggest producer after Saudi Arabia, plans to boost crude exports by 26 percent to a record 3.75 million barrels a day in June, according to shipping programs.
U.S. crude supplies slipped 1.5 million barrels last week, according to a Bloomberg survey of analysts before an Energy Information Administration report Thursday. Crude inventories were at 482.2 million barrels in the week ended May 15, more than 100 million above the five-year average for this time of year, EIA data show.
"The crude drop has already been built into the price," O'Grady said. "The crude draws will become less pronounced in the weeks ahead as Canadian imports recover."
The EIA will probably report a decline in stockpiles of gasoline and distillate fuel, a category that includes heading oil and diesel, the survey showed.
Gasoline futures for June delivery decreased 5.56 cents, or 2.7 percent, to close at $1.9983 a gallon, the biggest drop since April 8. June ultra low sulfur diesel fell 5.23 cents, or 2.7 percent, to $1.9002, the lowest close since April 22.