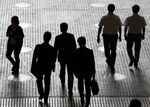 Japan wants its workers to take more holidays and work fewer hours to cut down the number of people pushing themselves into an early grave.
Decades after "karoshi," death from overwork, entered the Japanese lexicon, the government is still battling to get control of the problem. Leave entitlements and national holidays have increased, but the Japanese still shun vacations and the number of work-related suicides is little changed over the past decade.
Showing dedication to your company through sacrifice and never leaving the workplace before your boss does is deeply ingrained in Japanese employees.  

With more than 2,000 suicides a year linked to work and overwork, and most full-time employees taking less than half their leave entitlement, lawmakers were pushed into action last year when half a million people signed a petition calling on the government to improve the situation.
Draft measures announced this week encourage companies to shorten working hours and let employees make more use of annual vacation. Revised legislation submitted to parliament in April also obliges companies to have workers take at least five days' paid leave.
Japanese full-time workers spent 173 hours on average in overtime in 2014, 18 hours more than 10 years ago and the longest in comparable data going back to 1993, according to the Ministry of Health, Labor and Welfare.

Work was listed as a contributor to 2,323 suicides in 2013, according to most recent government data. The highest number recorded to date was 2,689 in 2011.
"Japanese companies tend to push current employees to work overtime rather than increase hiring when they get busy," said Koya Miyamae, an economist at SMBC Nikko Securities in Tokyo. "Labor shortages are forcing firms in some industries to have employees work longer."
The nation already has some of the most generous holiday rules on paper, with 16 public holidays a year, and an average of more than 18 days of paid leave per worker a year.
Now, the government hopes to cut the ratio of employees working 60 hours or more a week to less than 5 percent by 2020, from around 9 percent in 2013. It also wants workers take more than 70 percent of their paid leave, up from 49 percent, according to the draft plan.
For more on the global economy, check out Benchmark: