Goldman Clash Grips Danish Government After Coalition Split
Peter Levring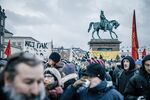 More than a year after Denmark's ruling coalition split apart amid a clash over Goldman Sachs's purchase of state assets, the case refuses to die.
The issue at stake is whether the government was transparent in its handling of the deal. A recent statement signed by the speaker of parliament criticized the process. With an election set to be called any time in the next three months, even parties that support Prime Minister Helle Thorning-Schmidt are refusing to accept her explanations.
It's "disrupting the government's political machine" and "overshadowing other initiatives," said Rune Stubager, a political science professor at Aarhus University.
The trouble started in late 2013, after it emerged Goldman won some veto rights -- including over funding and management changes -- as part of its $1.5 billion purchase of part of utility Dong Energy A/S. A chorus of objectors, including a former prime minister, then questioned the choice of a bank they said was tainted by its role in the global financial crisis. Lawmakers involved in approving the transaction have since said they weren't given full access to relevant documents.
The Red-Green Alliance, whose support helps keep the government in office, says it won't tolerate the "complete secrecy" in which the deal was conducted. The party is awaiting the outcome of a June 2 hearing, in which Finance Minister Bjarne Corydon will have to explain his decisions. If he doesn't provide answers the party finds satisfactory, "then it's obvious Corydon can't stay in his job," said Stine Brix, a member of the finance committee and a Red-Green lawmaker.
Unique Terms
Thorning-Schmidt says "there are sometimes circumstances in which certain information can't be passed on to the parliament." Dong urgently needed a capital infusion and Goldman, together with two Danish pension funds, offered the best bid, the government says.
Goldman says "each situation is unique in terms of what needs to remain confidential," according to an e-mailed response from spokeswoman Fiona Laffan. The bank's investment in Dong is "long-term," she said.
At Dong, Chief Executive Officer Henrik Poulsen said in February the company is benefiting from having an owner with ties to the international investor community as it prepares for an initial public offering by 2018.
IPO Plans
Goldman continues to view Dong as a company "well-suited for an IPO," Laffan said. Five-year credit-default swaps on Dong traded at about 70 basis points this week, compared with 100 in June 2013, before the Goldman transaction, according to data compiled by Bloomberg. A lower price reflects greater investor confidence in an issuer's debt.
But the case threatens to embroil a country that has consistently topped Transparency International surveys in a scandal that questions the candor of the ruling administration. Most of the parties in Denmark's parliament say the government didn't handle the Goldman transaction appropriately.
The largest opposition group, the Liberal Party, says it will back the Red-Green Alliance's demand that Corydon step down if the hearing ends badly.
Polls suggest the government will be ousted by a Liberal-led bloc in elections, which must be held by mid-September. A poll of polls published by newspaper Berlingske on Sunday puts the opposition at 53.7 percent, with 46.3 percent of voters favoring the government and its allies.
According to Stubager at Aarhus University, the Goldman case is "clouding out all the things" the government "really wants voters and media to talk about, like the economy and welfare."
Before it's here, it's on the Bloomberg Terminal.
LEARN MORE