Fubon Life Spends $540 Million for Madame Tussauds London Site
Adela Lin and Argin Chang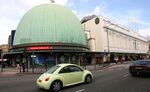 Fubon Life Insurance Co. agreed to buy the London site of the Madame Tussauds waxworks museum for 348.8 million pounds ($540 million) as the Taiwanese insurer seeks higher returns overseas.
The property on Marylebone Road near Regents Park includes a 2,833 square-meter (30,494 square-foot) block of land and 10,898 square-meter building, Taipei-based Fubon said in a May 22 exchange statement. The insurer, an arm of Taiwan's second-biggest listed lender by market value, has received approval from the island's Financial Supervisory Commission to buy the property from Secure Income REIT Plc.
Fubon is making its third real estate investment in London after Taiwanese regulators eased investment restrictions to help insurance companies buy more overseas property and foreign currency bonds. Cathay Life Insurance Co. earlier this month bought the Walbrook Building in the City of London financial district for 575 million pounds in the biggest single-property purchase in the U.K. capital this year.
The lease for Madame Tussauds has at least 27 years to run with an option to extend by as long as 70 years, Secure Income REIT said earlier.
Fubon Life last year purchased Bow Bells House at 1 Bread Street in London for 197.2 million pounds and a property at 1 Carter Lane and Two Old Change Court for 138.8 million pounds.
The company said in 2013 it plans to buy as much as $3 billion of overseas properties, targeting a gross margin of more than 4.5 percent. The life insurance company is wholly owned by Fubon Financial Holding Co.