The Best of Times for Swedish Households as Riksbank Prints Cash
Johan Carlstrom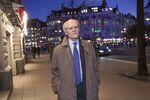 Sweden's households are probably feeling a lot better than the Riksbank policy makers who are struggling to re-establish their credibility on inflation.
Helped by a buoyant consumer, Sweden's economy grew 0.6 percent at the start of the year from the end of 2014, when it expanded at the fastest pace in almost two years, according to a Bloomberg survey of 13 analysts. Gross domestic product grew an annual 2.9 percent, they predicted. Statistics Sweden releases the figures on May 29.
"The households that have jobs have more or less never had it as good," said Magnus Alvesson, head of economic forecasting at Swedbank AB in Stockholm. "Low interest rates, low energy costs and low inflation translate into high real disposable incomes, while the employment development has continued to be strong."
That's a salve for the Riksbank, which is depending on economic growth to revive inflation in the largest Nordic economy. The bank lowered its benchmark rate first to zero in October and then in successive moves to a record minus 0.25 percent as it also announced a plan to buy as much as 90 billion kronor in government bonds.
Krona Falls
The moves, which have driven down the krona by 4 percent this year against a basket of currencies, could also help reignite exports, according to the analysts. The economy may also gain momentum from unprecedented stimulus by the European Central Bank.
"The development in Europe is particularly important and it's pretty obvious that the economy has turned for the better in Europe," said Andreas Wallstroem, chief analyst at Nordea Bank AB in Stockholm. "All cylinders will soon be running."
Yet policy makers will need the faster growth to actually translate into faster inflation. They received an unwelcome reminder earlier this month on the struggles they face, when a report showed consumer prices unexpectedly fell an annual 0.2 percent in April. The bank targets 2 percent inflation.
Deputy Governor Cecilia Skingsley said in a speech on Friday that the bank was prepared to act again and that that it "certainly shouldn't underestimate the risks of setbacks."
The GDP report could even add to their woes, according to Wallstroem.
"One could envision a scenario where we will end up with high productivity growth in Sweden, which will push down cost pressure and thereby inflation," he said.