Rick Perry Can't Get Enough of Iowa
He has spent more time in the key nominating state this year than any other Republican presidential hopeful, a new tally finds.
By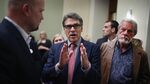 Presidential campaigns are measured by a lot of metrics. Polls. Fundraising. Advertising buys. 
And don't forget days spent in Iowa.
The Des Moines Register on Sunday tallied up the number of days each Republican contender has appeared in the key nominating state during the 2016 election cycle and ranked them as "Iowa Light," "Iowa Medium," or "Iowa Heavy." It underscores the close attention the Hawkeye State is paying to the crowded GOP field (where six candidates have formally declared their campaigns and more are expected to do so in coming weeks).
Former Texas Governor Rick Perry leads the pack, having spent 15 days in Iowa this year and 30 during the cycle overall, according to the newspaper. The least frequent visitor? Former New York Governor George Pataki (two days this year, two days overall). Among the best-polling contenders, Florida Senator Marco Rubio and former Florida Governor Jeb Bush fall in the "Iowa Light" category along with Pataki, and Wisconsin Governor Scott Walker falls in the middle of the pack.
The tally comes as White House hopefuls decide whether or not to participate in the Iowa GOP's traditional straw poll in August. Critics say the event favors more extreme candidates and costs too much. Bush and former Arkansas Governor Mike Huckabee, the winner of the 2008 caucuses, have said they will not participate. Businessman and TV personality Donald Trump has said he would participate if he jumps into the race. Now, Rubio's camp is signaling he will be a no-show, according to the Register. A spokeswoman for Texas Senator Ted Cruz told the newspaper he hasn't decided yet.