Narendra Modi's First Year by Numbers: What India's Markets Show
Nupur Acharya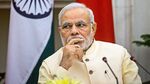 A year after Indian Prime Minister Narendra Modi's landslide election victory, financial markets have given him a positive report card though enthusiasm is cooling.
Sovereign bonds delivered the best returns in Asia amid record inflows from global investors, while the benchmark S&P BSE Sensex index of shares rose more than an emerging-market gauge and the rupee weakened less than most peers. Even so, the currency's first-year performance was the worst of any Prime Minister in two decades. With opposition parties hindering Modi's economic push in recent months, investors are reassessing the outlook for Indian assets.

Modi, who campaigned on promises of reviving growth in Asia's third-largest economy, improving public finances and curbing what was then the region's fastest inflation, was sworn in on May 26, 2014. He remains popular with voters but businesses and investors appear less enchanted than they were a year ago, according to Rajeev Malik, a senior economist with CLSA Asia-Pacific Markets.
"He remains the person most capable of bringing about a transformational change in India," Singapore-based Malik wrote in an e-mailed response to questions. "However, investors will have to be patient."
Here is a look at how Indian assets and some key market metrics evolved in the past year:
Bonds:
Sovereign bonds returned 14 percent in local-currency terms since May 26 last year, the most in Asia, Bloomberg indexes show. Modi joined the Reserve Bank of India's efforts to tackle inflation by raising subsidized grain supplies and setting stockpile limits to prevent hoarding of onions and potatoes. He also reaped a windfall as Brent crude prices tumbled 41 percent since he took office, cutting costs for India, which imports about three quarters of its oil.

Slowing inflation aided debt gains and prompted the RBI to lower interest rates twice this year, further boosting the appeal of bonds. Overseas investors raised their holdings of the Indian government and corporate notes by $25.6 billion in the past 12 months, more than double the tally of any previous year. Net purchases in April were the lowest of any month under Modi and so far in May global funds have sold more local debt than they've bought.
"People are getting a little frustrated with the pace" of reforms, "which is unrealistic to begin with," said Steve Drew, the London-based head of emerging-market credit at Henderson Global Investors, which manages about $133 billion globally. "We have to give him more time."
Equities:
The Sensex rallied 13 percent in the past year, compared with a 0.7 percent retreat for the MSCI Emerging Markets Index. The period has seen gains in 19 of the Indian gauge's 30 constituent stocks.
Modi's first-year performance scored an average 7.4 out of 10 in a Bloomberg TV India poll of equity brokers, who lauded his government for reviving investor sentiment, freeing up diesel prices to improve public finances, as well as taking steps to rein in price gains and curb the fiscal and current-account deficits. Slow progress on kickstarting infrastructure projects and the non-clearance of certain bills were seen as the major drawbacks, according to the poll.
Overseas investors boosted their holdings of Indian equities by $15.3 billion in the past year, though May is poised to record the first monthly outflows of 2015.
Rupee:
The rupee's 7.9 percent retreat against the greenback in 12 months is its worst performance in the first year of any Prime Minister since 1997, data compiled by Bloomberg show. The partially-convertible currency ranks 8th among more than 20 emerging-market exchange rates for the period.
That said, the rupee has been weighed down by broad dollar strength in the past few months as the Federal Reserve prepares to raise interest rates, and as the RBI has been buying dollars to build up its foreign-exchange reserves. The currency had tumbled to a record low of 68.845 a dollar in August 2013 after the Fed's signal to withdraw monetary stimulus saw an exodus of funds from developing markets.
"The RBI's focus on accumulating reserves hasn't allowed the rupee to appreciate against the dollar," said Divya Devesh, Standard Chartered Plc's Asia foreign-exchange strategist in Singapore. "However, the rupee's real-effective exchange-rate versus currencies of 36 trading partners is still almost 5 percent higher compared to May 2014."
Bond Risk:
The cost of insuring India's debt against default using credit-default swaps has fallen during Modi's term. Contracts protecting the notes of State Bank of India, a proxy for the sovereign, against non-payment for five years have dropped 36 basis points to 152 basis points, according to data provider CMA. They slumped to a five-year low of 143 in March.
Moody's Investors Service raised India's rating outlook to positive from stable in April 2015, seeing off a pre-election risk that the nation's assessment would be cut to junk. Faster growth, slowing inflation and a narrower budget deficit prompted Moody's decision. Fitch Ratings also affirmed India's BBB-rating with a stable outlook in the same month.