Julian Castro Dismisses Hillary Clinton E-Mail 'Witch Hunt,' V.P. Speculation
Benghazi panel Chairman Trey Gowdy is playing politics, Castro says.
By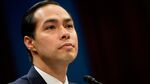 Department of Housing and Urban Development Secretary Julian Castro is defending former Secretary of State Hillary Clinton against scrutiny of her Benghazi e-mails, calling it a "witch hunt" against the Democratic presidential front-runner.